If you can imagine it, you can achieve it; if you can dream it, you can become it. This is the motto of Terin Siriwardena at Wedding Dreams, a bridal dress store that has taken the Sri Lankan market by storm during the past few years.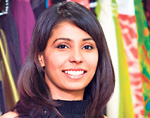 Terin Siriwardena
Walking into her store at Bullers Road, near the Duplication Road junction the first impression one gets is that it's a bride-to-be's dream come true. Ladies looking for the perfect wedding dresses or trying to find one that fits their style is sure to wake up to their dreams at Wedding Dreams. Removing your shoes is a must at the store which gives effect to the fact that this is serious business.
An impeccable collection of outstanding bridal dresses, going away dresses, home coming dresses, bridal jewellery and head pieces, Indian bridal wear and accessories great the customers at the door of this trendy bridal store.
Bridal fascination
"From my younger days I found bridal dresses fascinating. I used to do many sketches of bridals, which prompted me to design about six bridals," said Ms Siriwardena, who was sketching some bridals at the time the Business Times met her. This was when she was all of 20 years, and had raised some Rs 200,000 for this entire project which she had displayed at a bridal fair in 2005 at BMICH.
"There were no hangers and racks for displaying and I only had one dummy. The fair was on a weekend and from Monday onwards I got inquiries," she smiled. She says that with this unbelievable response almost immediately she had to find premises to take on the orders. "Luckily, the upstairs of my parents' office was vacant. I quickly moved in there and started taking orders," She remembers. She says it took her only two months to start making profits. She adds that Wedding Dreams believes in offering a unique one-stop-shop concept for the bride-to-be. Ms Siriwardena had the foresight to back her skills with a qualification, which prompted her to follow a degree in fashion designing.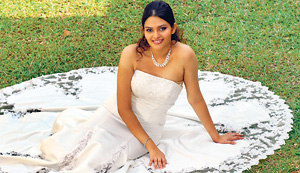 "I did this at the Academy of Design – simultaneously as I started out with my business," she says, noting that the academic background helped immensely to hone her talent.
Word-of-mouth
She says that there was no need for advertising as satisfied clients by word of mouth did the needful.
By this time, her small business had grown wings. "In 2008, I shifted to Duplication Road Colombo as more space was required," she says.
If the hundreds of exquisite bridal dresses with designs so intricate and stylish still do not meet a client's requirements and taste, the dress designs can be customized to a clients' personal taste and made in any size with modifications as per the client's request. At Wedding Dreams one can even give an order for bridesmaids and flower girl dresses, making it your own personal choice of colour and style. Last year saw Wedding Dreams locate to a bigger space at a strategic location on Bullers Road. "This was again because we required more space," Ms Siriwardena beams.
Something of my own
She is keen to get her own label. "I cater to the high end, but will start a collection for the mid-end called Tery's Collection which will be mostly party wear," she says. She will also expand and get more space upstairs at the current location for this line. Ms Siriwardena says that after the war, she has seen demand for more clothes in terms of party wear.