Concerns are being raised by the leisure industry over government plans to reach a target of 2.5 million tourists by 2016 from around 500,000 annually, today. While increasing the number of tourists to these levels is not the issue and is what everyone would love (in the future) in terms of providing more employment and more foreign exchange for the Sri Lankan Treasury, the problem lies in carrying capacity (the capacity to accommodate), food requirements and the question of over-visitation.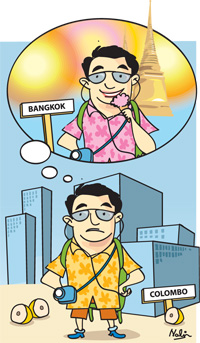 The fact remains, and clearly too, that Sri Lanka just doesn't have the capacity and resources (currently) to accommodate 2.5 million tourists even if there is a fast-tracking of new rooms by 2016. The issues are more than rooms: Excess crowds at heritage sites like Sigiriya where a surge of locals at the weekend cause huge problems with infrastructure bursting at the seams. Another serious issue raised this week is the capability to feed another two million people (tourists – based on the fact that we already have 500,000 holidaying now).
Another contradiction in government policy is the plan to do away with the visa-on-arrival scheme and replace it with a visa obtained at the point of departure from the Sri Lankan mission, which industry personalities say would ruin any change of increasing the number of arrivals. The current thinking, after the planned scheme was suspended before being enforced last month, is to have an online visa application facility which would speed up the process.
Furthermore an additional point that was raised this week at a panel discussion on tourism with the participation of the 'biggies' in the industry – Abbas Esufally (Hemas), Ajit Gunawardene (John Keells), Malin Hapugoda (Aitken Spence), Hiran Cooray (Jetwing) and S. Kalaiselvam (Sri Lanka Tourism Development Authority) – during the annual sessions of the Institute of Certified Professional Managers, was that unlike most hot tourism spots in Asia (Bangkok, Kuala Lumpur or Singapore), there is little or no entertainment or shopping in Colombo.
"There is no buzz in Colombo… no (major) shopping streets… no (major) dining streets," said Cooray. Colombo, it was noted, rarely figured when Sri Lanka was promoted as a tourist destination. It was all about culture, heritage, resorts, nice people, etc but Colombo didn't figure at all in promoting Sri Lanka as a destination to visit – unlike other competitors like Thailand or Malaysia which profiled their capitals more than other locations in the country. These capitals are buzzing with activity and things to do.
Sri Lanka, as we have always pointed out, is not the only girl on the beach. When someone decides to take a holiday, they look at the destinations, what it can offer and then the best available price – if it's a budget or group traveller. In the upper, boutique class accommodation segment however a vibrant capital is not the key marketing tool.
Hotspots like Bangkok, Singapore or Kuala Lumpur completely outvote Colombo as a desirable destination. That could also be judged by the fact that in corporate Sri Lanka, many companies have their sales/management or dealer conferences in these exotic destinations. Recently a top Sri Lankan consumer goods company held its dealer convention at a Thai resort hosting 500 dealers and their spouses:
That would require at least two chartered planes and over 200 rooms!! In another instance, a Colombo tyre firm claimed a first by hosting 1,000 dealers and their families at an overseas resort while some years back the media reported how a Colombo firm had hosted a dealer convention in Australia.
In the MICE (Meetings, Incentives, Conferences, Exhibitions) tourism sector, tourist authorities here often are overjoyed by foreign companies seeking to hold their annual conferences here and we have had a few. However these are just driblets of what other hotspots offer in terms of this kind of tourism engagement, and this often happens because foreign corporates are looking for a new change of scene after visiting other locations – not as a first choice MICE destination.
Simply put – Colombo is lacking in infrastructure, entertainment, a bevy of restaurants with food from different countries, cultural shows, pubs and nightlife. It's all about leisure which we don't have in abundance.
Just like Bangkok (where the attraction is also the girly bars), Kuala Lumpur or Singapore (which is changing its image from being being conservative to progressive with pubs, girly bars, etc), Colombo also needs to dress up and offer travellers a damn good show, all-day… all-night. Take even New Delhi, tourists can take a daily bus tour to visit the historic sights in the capital which again Colombo cannot offer.
Apart from these constraints, the ability to produce enough food and other consumables for an extra two million mouths is a gigantic task. What would ultimately happen is that with the leisure industry paying a higher price to local produce to cater to te tourism market, the cost of goods to the local population will soar as demand far outstrips supply and cost of living shoots through the roof.
Travelling in Colombo is also a nightmare and traffic snarls are the order of the day: Definitely not good for tourism. Thus rather than aiming high and vertical, let's aim horizontal, get our basics right and as one leisure industry professional suggested go for quality tourism with the focus on green and environment preservation (not ruination) --- not tourism in quantities. It's not too late to change the focus.