Well known male vocal group, the Revelations currently ranked fourth in the world among male choirs were recently invited to perform as guests at the Tomohon International Choral Competition & Symposium held in Indonesia in August. The Revelations performed at the closing ceremony of the symposium, opening ceremony of the competition, and staged two concerts to a capacity audience where their music was so enjoyed that the entire crowd was on their feet dancing, clapping and singing along.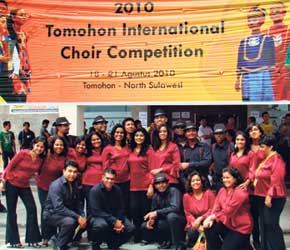 The Revelations Academy of Performing Arts that won two Silver medals
"This was an unbelievable experience for us," said Sanjeev Jayaratnam, Leader/Choral Director of the Revelations. "The crowd was so responsive and really gave us fantastic encouragement. At one point it ceased to be a performance by an a-cappella group and turned into something more closely resembling the audience participation at a rock concert."
The Revelations also participated in the performance of the Nelson Mass by Haydn, and the Coronation Anthems of Handel together with a joint choir and orchestra from around the world.
The symposium and competition had choirs and jury from the US, Canada, Sweden, Denmark, Norway, Philippines, Singapore and the hosts Indonesia. The Revelations Academy of Performing Arts was one of the competing choirs in the competition and won two Silver medals in categories of 'Gospel & Spiritual', and 'Pop & Jazz'. The choir conducted by Sanjeev Jayaratnam comprised 19 members both male and female between the ages of 15 – 40. This was their very first international or local competition -the choir has been singing together as a group for less than 4 months.
Leaving Indonesia the Revelations performed as guest artistes at the Singapore International Acappella Competition at the Singapore Esplanade. The Revelations are looking forward to other tours in the near future and launching an original album of a-cappella music.