Jaffna seems to be the most popular holiday destination now for thousands of Sri Lankans. Once ravaged by the war, the streets of Jaffna are bustling with activities and events after events. Market places, restaurants and guest houses are filled to capacity—mostly patronized by people from the South who haven't set foot in this former terrorist stronghold for 30 years.
On my very first visit here since my childhood days, I found the place to have a character all its own, while the people of Jaffna are as friendly and full of hospitality and goodwill as in any place in Sri Lanka.
Apart from basic in conveniences, lodging seems to be the biggest problem for bus loads travellers coming from the South. Hotels, though they are not luxurious as Colombo five star, Inns, Rest Houses and Guests Houses and rented homes are at spill level.
Lux Etoiles Hotel is centrally located at Chettly Street, close to the city centre and just few minutes walk to the famous Nallur Kovil, where the festival was in progress by the time I visited in mid August.
I found out that its French-speaking owner, Wettivelu Yajanthiran's immodest claims 'Jaffna's best inn' was perfectly fits in with his little paradise.
It offers comfortable rooms with A/C and attached bath, where you can be fit in with your family of four with an extra bed. 'I always say this is the best place in town and I am proud to say that. I offer comparatively very good rooms and I must say that the cuisine is the best in the Peninsula' he said.
I went on a hunt for the real Jaffna cuisine, which is supposedly the spiciest on the North of the island. Lux Etoiles Hotel offer ends my hunt as it has the best sea food in the city.
It is not a secret of the city, but I found out that Mr.Wettivelu is a Chef by profession and qualified in France and has many years of experience behind him as a master in French cuisine. 'I always offer Jaffna specialties to my guests. Be it breakfast, lunch or dinner, you should try out authentic Jaffna dishes as many as you can. That is how you can feel our hospitality. Sea food takes a big potion of our menu and typical Sri Lankan hot curry dish is our signature dish' he explained about the dining styles of the Lux Etoiles Hotel.
Started in 2003, Lux Etoiles Hotel has eight family rooms and offers an elegant dining area for about ten pax to comfort the stay in Northern capital. 'Ex-large double Room with air-conditioned facilities, mini Bar, television with 37 channels, fully functional attached bathroom, shower cubicles with 24hour hot water supply are some of our facilities' he added.
The hotel offers 24 hour service reception and security, private car parking, laundry service, European and Sri Lankan cuisine and transport facilities with guides. Apart from Nallur Kovil, Naga Vihar, market places, famous library and Nagadeepa, there are so many places in and out Jaffna to see.
Point Pedro, the top north point of Sri Lanka, Kirimalai Beach, Thologotti Farm, which is world famous for its Nelli Crush, Casuarina Beach, Karainagar island, ancient Christian houses in Chunnakam, Kandarodde Temple, Nittawarau no bottom well and many traditional village fairs in many parts of the Peninsula.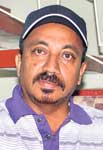 Wettivelu Yajanthiran
'On request, we can arrange transport and an experienced guide to accompany on all these excursions. Picnic lunch too can be arranged' Wettivelu said. Lux Etoiles Hotel has its sister hotel in Nuwara Eliya.
Lux Etoiles will expand to its new 16 room wing by end of this year and this will offer guests with sports facilities such as badminton, basketball and other indoor sports facilities.
'This project is now on and we hope to complete it for the coming winter season. Our well trained staff including Chef Nadan House keeper Jayandan and Manager are waiting to provide you with disciplined and perfect service to make your Jaffna Trip a memorable one' he assured.
Luxetoiles Hotel is situated at No. 34, Chetty Street Lane, Nallur, Jaffna and log on to www.luxetoiles.com. Telephone No. is 021222 3966.