For the 5th consecutive year TMC's WISDOM Quiz event will be held on Saturday September 18 at the Grand Ballroom of Galle Face Hotel and the Management Club (TMC) takes pride in the fact that this quiz has now become one of the most popular table quiz events in Sri Lanka.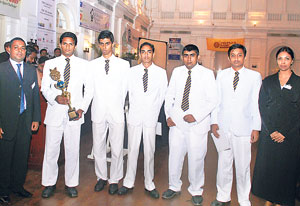 Royal 'A' team emerged winners of Schools and Educational category in the TMC Wisdom Quiz last year
As usual the quiz will be conducted as a team event with 5 members per team. It will be open to four sectors - Schools and Educational Institutions, Public and Mercantile Firms, Banks and Financial Institutions and teams formed by individuals.
TMC expects around 40 teams this year going by the tremendous enthusiasm shown by the quizzers - the young and the not-so-young, working and non-working people alike. Questions will be based on 5 subjects - Current Affairs, Sports, General Knowledge, Space and Astronomy and Arts/Literature and Entertainment.
The overall winners will walk away with the TMC Challenge Trophy and a cash award of Rs. 50,000, Runners-up with Rs. 30,000 along with Rs. 15,000, Rs. 10,000 and Rs. 7,500 for the 2nd, 3rd and 4th runners-up respectively.
Applications will be entertained on a first come -first served basis and confirmation of participation will have to be made to the TMC desk at Galle Face Hotel along with the registration fee of Rs. 7,500 per team as the number of teams will have to be limited to a maximum of 40 due to space constraints and other logistical arrangements.
Details could be obtained from the TMC Secretariat at Galle Face Hotel on Tel: 5860000.