The Sri Lanka Institute of Information Technology (SLIIT) signed an agreement with telecom giant Lanka Bell on the 30th of June to provide customised state-of-the-art telecom services as a means of expanding the SLIIT's high-end IT infrastructure and facilities.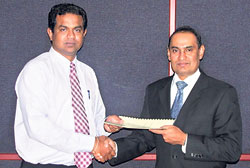 Prasad Samarasinghe - CEO & MD at Lanka Bell & Professor Lalith Gamage - President and CEO, SLIIT.
Through this agreement, SLIIT will benefit from the expansion of internet bandwidth and communication infrastructure which link the institution's campuses and regional centres and provide seamless connectivity to all branches. "This agreement will enhance connectivity to CourseWeb which is running Moodle Learning Management System, which hosts not only static course content but also video content that students can speedily access both on and off campus. Our aim is to improve the reliability of the infrastructure and diversify our multiple service providers" states Professor S. Karunaratne, Chairman at SLIIT.
Professor Lalith Gamage, President and CEO at SLIIT asserts that "SLIIT's agreement with Lanka Bell will provide faster and more efficient communications solutions for both students and faculty at the institution, complementing students' face-to-face learning during lectures. SLIIT has been using Moodle Management Systems since 2005, thus providing a state-of-the art learning and teaching environment to students and faculty".
SLIIT continues to develop and fulfil the educational needs of its students to provide top-notch graduates to the IT, Electronic Engineering and Business sectors of the country, fulfilling the constantly changing requirements necessary to meet the demands of these industries.