Northumbria University and CIMA Sri Lanka division together with the British High Commission Colombo announced the launch of an exclusive Honours Degree programme for CIMA at a ceremony with distinguished gathering conducted at the British High Commission in Colombo.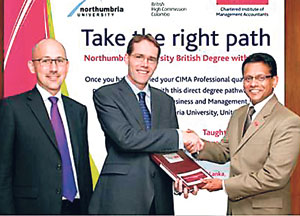 The exclusive degree pathway will allow CIMA qualified students to study 3 modules namely Leadership, Contemporary Issues in Business Management and a project to obtain the Honours Degree in Business and Management from Northumbria University.
British Deputy High Commissioner, Mr. Mark Gooding launched this programme at the British High Commission, Colombo in the presence of Neil Slater, Head of International Office, Northumbria University and Bradley Emerson, CIMA Regional Director, South Asia & Middle East and W.A. Wijewardena President BMS.
Speaking on the programme Mark Gooding, Deputy High Commissioner commented "The British High Commission is pleased to support the launch of the Northumbria University's BA (Hons) Business and Management degree programme in Sri Lanka. Northumbria University's collaboration with Chartered Institute of Management Accountants (CIMA) is an innovative approach to increase access for Sri Lankan students to a British University degree.
I commend the efforts of Northumbria, CIMA and the university local partner BMS in setting up this degree programme. It provides the opportunity for Sri Lankan students to gain an internationally recognized British qualification in Sri Lanka".