The CMO Asia Awards is an awarding body that recognizes the commendable contributions of Organisations, Chief Marketing Officers and Professors from some of the greatest Business Schools in Asia.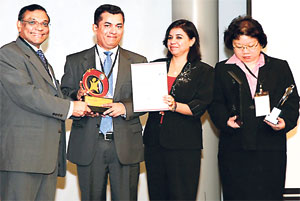 Faris Ismail, CEO of Achievers receiving the Asia's Best Business School Leadership Award on behalf of Achievers.
The CMO Asia Awards gains immense prominence, as it is represented by 25 Asian Countries.
Achievers Lanka Business School was honoured at this prestigious awards ceremony by being awarded The Best Business School Leadership Award in Asia.
This was attributed to the CEO of Achievers Lanka Business School, Faris Ismail. He with the presence of Ravi Edirisinghe, the Chairman of Achievers Lanka Business School, was able to steer Achievers to greater heights, from a humble beginning. The other Directors of Achievers Lanka Business School Jairaj Krishnakumar, Senaka Kekiriwaragodage and Azad Hye have also played a prominent role in bringing this institution to the very top.
The diversity and exceptional management skills of its Board has enabled Achievers to flourish and stamp its absolute dominance in the academic arena. Achievers Lanka Business School is a leading CIMA education provider in Srilanka, possessing an enormous student population.
A recent manifestation of its sheer dominance was evidenced by the achievement of 9 out of 11 CIMA prizes by Achievers students. Achievers' unprecedented performance in the academic arena is attributable to its experienced and dynamic lecture panel.
The world renowned Nanyang University was also a proud recipient of this Best Business School award at CMO Awards Ceremony. Nanyang Business School is ranked 27th in the world for MBA education. Hence, this demonstrates that Achievers ranks amongst the BEST in ASIA.