At the Taj Samudra stall, the bunny chow are sold out. Though these little buns stuffed with meat curry and nuts are a popular South African speciality, even the chef was not entirely prepared for the enthusiastic reception they received at the Spice Festival Hawker Street last week. The concept is simple, says Chef Jodi-Ann Pearton, its quick food on the run. The bunny chow make for an enticing introduction, but she is intent on introducing international audiences to the many other, lesser known wonders of Africa's indigenous cuisines, even if she has to do it singlehanded.
At 26, Jodi-Ann clearly no longer needs to prove herself, but that doesn't mean she's ready to relax. This multi-award winning celebrity chef runs three companies, consults on menus and trains staff at several major hotels. She was the youngest chef to ever find a place on South Africa's National Culinary Team and last year she became the first chef to win the title of South African Chef of the year thrice. She has her own radio show (The No-Fry Zone airs on Friday mornings), and she and her horse Salem are into show jumping. She plays golf and writes about it (she also contributes monthly columns to a few magazines); she is an avid mountain biker and hiker. It's no wonder she has to wake up at 4: 30 every morning, just to keep tabs on it all.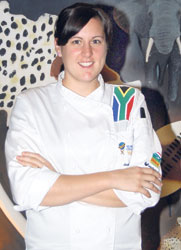 Jodi-Ann: Giving a taste of South African food.
Her newest company Little Leaves opened a month ago. The company farm delivers growing microgreens in trays to its customers. These herbs, harvested in their infancy, are the nutritionally dense first leafy growth of plants like basil, celery, coriander, rocket and mustard plants. The organic plants the farm produces meet Jodi-Ann's insistence that her companies stay 'green', she avoids using imported goods in her kitchens because of the carbon footprint and all their packaging is made of sugarcane and decomposes within a week.
Her other company, the Cookie Design Emporium creates artisanal, seasonal cookies and baked goods. Pomegranates and cinnamon with vanilla dough make an appearance in the appropriate season, as do apricot and dark chocolate cookies. Jodi-Ann says she does a tasting every day, just after she looks in on the farm, and just before she heads down to her third company. At The Food Design Company (http://www.fooddesign.co.za) she deals with the days meetings, consultancies and training sessions.
Over the two years that Jodi-Ann served as the International Development Chef for the South African brand Nandos, she lived out of a suitcase. Her task was to tour countries where the brand had a presence and create new items for the menu using Nandos products. She developed a range of sauces, marinades, the basting sauces along with other products sold under the Nandos label and pioneered the 'peri deli' concept in South Africa.
"Busy people find the time to do everything they want to," says Jodi-Ann. Warm and enthusiastic, Jodi-Ann has a ready smile and a backbone of pure steel.
Ever since she gave up on veterinary school (though she took care to pass her first year exams), Jodi-Ann has been winning several culinary awards a year. Her insistence on educating herself about foreign cuisines and then sharing it with her fellow chefs has also won her some fans. But it is her attitude that she credits with her success.
When she walks into a new kitchen she knows she needs to earn the respect of her co-workers. "Men are stronger than women, it's a fact. And being a chef – it's hard labour. You're on your feet for 17 hours a day, you sweat, you pick up heavy things, you burn yourself, you cut yourself," she says frankly. "It's true what they say - if you can't stand the heat, get out of the kitchen."
She's had to do the same in Sri Lanka, but she says she'll be going back with an appreciation for what she's dubbed our "scratch cooking". "Everything in these kitchens is prepared from scratch," she explains, adding that she also admires the way local chefs use their spices, even if the chilli leaves her gasping.
Last day to get a taste of all that spice
Today marks the last day of the Spice Festival. Over a dozen city hotels and a number of speciality restaurants have put up a nine day feast representing cuisine from all corners of the globe. Philippine food at the Grand Oriental, Mediterranean at the Cinnamon Grand, Korean at the Galle Face Hotel and Arabic at the Galadari were among the exotic fare available at the Hawker Street event on Greenpath and continue to inspire buffets and special menus at the hotel in question.
The number of attendees at the Hawker Festival has risen over the years with several thousand guests making an appearance in 2010. Chef Yew Seong Lip represented the Ceylon Continental – dishing up plates of nasi gorang, tamarind prawn, cucumber acar and chicken satay with peanut sauce.
Like the other chefs, he also imported rare spices for the event, bringing in the likes of odary root powder and licorice root to give his dishes an authentic taste. Speciality restaurants like The Sizzle and Mango Tree also drew more than their fair share of customers in what was this year's biggest celebration of culinary art. Here we share a tempting recipe.
Assam Prawn (Tamarind Prawn) by Chef Yew Ingredients:
8 oz prawns (shell-on)
1 1/2 tablespoons tamarind pulp
4 tablespoons water
1 teaspoon sugar
1/4 teaspoon salt
3 tablespoons cooking oil
Method:
Mix the tamarind pulp with 4 tablespoons water. Extract the juice from the tamarind by pressing the pulp.
Remove the heads of the prawns. Devein the prawns by slitting the back. Rinse prawns with water and pat dry with paper towels. Add the tamarind juice and pulp, salt, and sugar into the prawns and mix well with your hand. Marinate for 15 minutes. Remove the tamarind pulp before cooking.
Heat up a wok and add cooking oil. As soon as it's heated, drop the prawns into the wok and pan fry until cooked and slightly burnt.
Serve immediately.