Yesteryear is where you go when you want to lean back, relax and let the past take you on a long, winding drive through a countryside of pleasant memories.
On a sunny day, back in the mid-Sixties and well into the early Eighties, the gates of a dignified, laidback bungalow on Dickman's Road, Colombo 4, would open and a dignified, laidback and quite splendid vehicle would emerge; it would pause, turn left or right, and sedately head into town.
As heads turned to admire the grand old car noiselessly gliding past – magnificent in a coat of yellow and black paint – heads would also register how uncommonly well paired were the car and its front-seat occupants.
This particular car, a Vauxhall 20/60 of 1927, had the ideal owners in Mr. Conroy Ivers Gunasekera and his wife Doreen – a handsome dignified couple, travelling in a handsome, dignified vintage vehicle. Not everyone can carry off a grand car. They either look self-conscious or overwhelmed. Not the Gunasekeras. They possessed their Vauxhall, and not the other way around.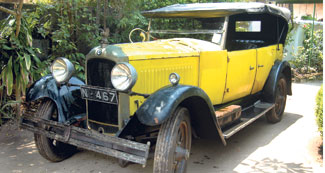 The 1928 Vauxhall 20/60 belonging to veteran cricketer, C. I. Gunasekera.
Wherever the car stopped – at a Bambalapitiya grocery store, a Havelock Road petrol shed – a little crowd would gather. The Gunasekeras were usually aristocratically unaware of the attention, and if they were, smiled with a preoccupied geniality. And when it was our turn to take over the car – a gang of four or five boisterous teenagers, led by C. I. Gunasekera Junior – the Vauxhall lost not a beat in its dignity.
Father and son's shared passion for cars meant that visitors would often have to stand in the garden and look on as the two Gunasekeras oiled, washed and tended their fleet of vintage acquisitions. The late Mrs. Doreen Gunasekara would join the visitors in the garden and look on, bemused. The front lawn was dominated by at least six Old Beauties, among them two Rileys and a Packard.
But it was the Twenties tourer that caught our imagination. We called it "The Yellow Rolls-Royce", after a popular Hollywood film of 1964. The film was a charmer, and boasted a string of big names – Rex Harrison, Ingrid Bergman, Omar Sharif, George C. Scott, Shirley Maclaine, Jeanne Moreau and Alain Delon. But the main star was a yellow Rolls-Royce Phantom II.
On weekends, we would commandeer the Yellow Rolls and glide through town, C. I. Gunasekera Jr at the controls. Up and down the Galle Road, into Turret Road, taking a couple of turns around the Viharamahadevi Park, then on to the Fort and the Pettah, with a stop at Fountain House for an ice-cream, a brief call at Panchikawatte Road for technical advice, a slow cruise past the red-brick Alma Mater, in Colombo 7, and so on.
Parking on the edge of the Galle Face Green, we faced the horizon and talked about present and future things. The seats of sumptuous black leather were wide and capacious. Occupying the front or back seats was like sitting on a sofa. Leg room was plentiful. You could comfortably cross your legs, turn around and, your arm resting along the top of the seat, conduct a conversation with your companions as if you were in your sitting room at home.
The car, despite its aristocratic aura, must have had a couple of fun nuts and bolts in its system, for it also brought out the mischievous in us. On a Sunday, after lunch, when traffic was scarce, we would drift along leafy Thurstan Road as if we were a phantom car – with no passengers. We checked the road straight ahead and ducked out of sight, one pair of hands steady on the steering wheel. The stretch from the top of Queen's Road to the Bagatelle Road-Alfred Place junction is straight as a gear stick, so if your vehicle is pointing straight ahead, you cannot go wrong. Fellow drivers and anyone who happened to be strolling along Thurstan Road would see an unoccupied car cruising along, a mechanical ghost in the afternoon.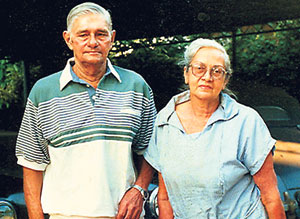 C. I. Gunasekara and his wife, Doreen
The Yellow Rolls also brought out the old-fashioned and romantic in us. Driving along breezy Reid Avenue, we would sing a Maurice Chevalier song we would have learnt from our parents. It was their vintage, not ours.
"Every little breeze seems to whisper Louise, / Birds in the trees seem to twitter Louise." We agreed that the Yellow Rolls would make an interesting dating vehicle, expressly to impress the object of one's special attentions. When the Rolls was actually used for this purpose, (to impress someone coincidentally called Louise), the teenage male at the wheel ran out of things to talk about. So he took to acting as if driving a 1920s vintage car was a complicated business, and started excessively fussing with steering wheel, ignition key and gear box. The 1928 Vauxhall dashboard was a wide sweep of gleaming polished wood, largely innocent of the dials and complications you see on contemporary dashboards.
The fair front seat-passenger soon became bored, then impatient, with the technicalities of vintage model manoeuvring and asked to be dropped off at her aunt's home round the corner. That was the first and last of the romantic rides we had in the Yellow Rolls.
Since the early Nineties, the Yellow Rolls has been largely off the roads. It must have last appeared in public about a decade ago. It is stabled in the garage, and taken out for an airing and a bath whenever C. I. Gunasekera Junior is down from London.
C. I. Gunasekera Senior, the veteran cricketer who celebrated his 90th birthday 11 days ago, says the Vauxhall is the car he wants to keep. He has sold off his other vintage vehicles over the years.
"The Vauxhall 20/60 is a very rare car. It was made about 83 years ago. I think it's the only one in the country. There are very few in the world now. It is a large specimen of a car, and not very popular as a means of conveyance. I haven't sold the Vauxhall because it is a treasure of the world. I hope it can go to my grandchildren and their grandchildren. The vintage nature of the car attracts my imagination.
"Vintage cars are lovely. Vintage anything is lovely, for that matter," Mr. Gunasekara chuckles sipping a ginger beer on the veranda of his home. On the table is The Vintage Motor Car Pocket, and it is open to the page on the Vauxhall 20/60: Year 1928; R. A. C. Rating; 19.8 h.p.; 6 cylinder; 2.7 litres.
"Every year a vintage car gets more valuable and becomes more and more a museum piece. My Vauxhall was born in 1928 and purchased in 1929. I bought it in the '60s." Father and son have different stories on how the car came into the family's possession. The older Mr. Gunasekara says he first saw it at a car rally.
"There was this magnificent item running along with the other rather ordinary cars. I got in touch with the owner. He lived in Matara. He agreed to sell. And can you believe, the price was five thousand rupees."
The younger Mr. Gunasekara says his father spotted the car in someone's front yard somewhere in Ratmalana. At the time, Mr. Gunasekara senior was going to the Ratmalana airport once a week for flying lessons. The Vauxhall in the garden was open to the elements, and there were chickens nesting inside the torn upholstery.
"It wasn't in very good condition when I bought it. But it has an aluminium body, and that's very important. Aluminium, as you know, does not rust. So the years have not taken their toll on it.
"I would say that my most memorable drive in the Vauxhall was the day I bought it and drove it home," Mr. Gunasekara recalls.
"The engine is a very large six-cylinder. It is very silent. You can hardly hear it ticking over from a yard away. My son Chris went to Kandy in it one day and the journey went without a hitch. The only stop on the way was at Kadugannawa, when the car heated up on the steep climb and they had to pour a lot of water into the radiator."
And what about the eye-catching yellow-and-black look? "Doreen and I and Chris thought about it, and we fancied yellow and black would be the most appropriate colours for an unusual car. We had to get the right yellow. There are yellows and yellows.
"My interest in cars began at a very young age. Of course, these were not vintage cars at the time. I was nine years when I started driving. I would manoeuvre the family car within the precincts of our garden."
During our drive down memory lane, we take a surprise turn. The conversation swings into population and related statistics.
"Driving on the roads in the old days was very different. There were very few cars then. Today's population has caused congestion on the roads. And therein lies our country's biggest problem.
"We haven't got the message across that this country of ours is vastly overpopulated. The answer to our problems is family planning and population control. An immediate programme should be introduced. For a country to progress, you must have a reasonable number of people to share the cake.
"I'll never forget, in the 1930s, our geography master putting up a map of the world. He pointed to Norway and Ceylon. "Norway then had a population of two million, and Ceylon had about five-and-a-half million. Today, we have 21 million, while Norway has just over four million people. In 80 years our population has grown by 15 million, while Norway's population has grown by just two million. What does that say?
Mr. C. I. Gunasekara has left his Vauxhall behind. The country's rampantly growing population is of far greater importance and relevance. Twenty-one million souls, he insists, is already far too many.
The veteran batsman has his eye on the population scoreboard, and he is counting.