WISDOM TRAINER International the pioneering Training Company who introduced Personality Training Field and English Language Training Workshop model in Sri Lanka is organizing the WEST plus WISDOM - Ultimate Life Mastery Programme for the 21st successful year. Master Trainer Dr. Kuma Iddamallena has been conducting it since 1989 and over 20,000 participants have completed the programme during the period.
Problems you may have. School leavers, graduates, professionals and business leaders are all in the same boat when it comes to personality issues. You may perform very well in some areas and do very badly in some other areas. You may lack confidence to go to a stage and make a presentation or a speech to an audience.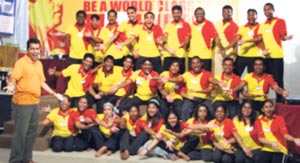 WEST plus WISDOM - Ultimate Life Mastery Graduates - 2009
You may experience hesitation to have fellowship in a social gathering to mix with people. For instance you may have observed at social functions some people enjoy to the fullest singing ,dancing, chatting and having fun with every one around while you restrict yourself to one or two known friends and spend the whole time with the least amount of fun.
You may perhaps suffer from the fear to move around. You may not realize and overdo things at certain places not knowing the standard etiquette (manners) to follow. You may like to go to the dancing floor and dance like others but do not have the confidence at least to walk to the dance floor and hang around, so you may avoid it feeling shy. You remain unhappy although you pretend to be smiling and happy.
You will get better results in life only when you take action to change all your unproductive behaviour patterns.
In work life you may suffer with numerous communication problems, relationship issues, misunderstandings, not getting the promotion you want, earning too low when compared to the qualifications you have obtained. You may have studied overseas in the most prestigious university and come back, but you may have personality issues. You may be frustrated about life and getting annoyed and angry for no big reason. You may lack people handling skills and therefore hate others while you are also being hated by others. Therefore you do not get the position you dream of.
Sometimes you may have problems in your personal and family life. You start a love affair, marry and have children intending to have a happy life. Further you may be working very hard and earning money to have a happy life, but encounter situations preventing the enjoying of life as you desire. There are so many unwanted unhappy quarrels due to mismanagement of family matters or misunderstanding. You do not achieve your dreams and get frustrated to live unhappily forever.
Ultimate Life Mastery Programme - WEST PLUS WISDOM is a finishing school. WEST plus WISDOM- Ultimate Life Mastery programme is a finishing school for any person to master almost all soft skills of life. This programme covers numerous subjects with which one can correct many weaknesses of his or her personality.
Speak in English before an audience without any hesitation, build a rapport with any difficult person and lead such person to do what you want him or her to do, communicate effectively with people around you to get the results you want, be one of the top 10% of the most successful people in your field of work, profession and business.
Be totally focused on the future so that your past does not bother you, have fellowship, mix with people in parties, functions and other public places without any fear, hold any leadership position with responsibility and confidence better than anybody else around, move with high status business community following the standard social etiquette (manners), love others and be loved, be happy and create happiness for others, use all the creativity you are born with and increase your efficiency in everything you do, sing, dance and have fun just like a kid, be mentally and physically fit so that you look young and energetic, whatever age you are in and the position or rank you hold, brush up all your life skills so that you get the real value out of your qualifications, do the best, be the best and achieve the best in your business and profession, earn more ,save more, be rich, help yourself and others… are some of the key benefits you can achieve by attending the WEST plus WISDOM- Ultimate Life Mastery programme.
Methodology
Dr.Kuma Iddamallena who is a Master Practitioner and Master Trainer in Mind Muscle Vibration Therapy (MMVT) and Neuro Linguistic Programming (NLP) conducts this programme in a highly interactive practical activity oriented workshop model using MMVT & NLP. Cognitive Behaviour Therapy (CBT) and Reflective Group Therapy Learning (RGTL) are other methods.
Who should attend
All those who aspire to have greater success in life profession and business can attend this programme. School leavers, university students, professional students, professionals such as doctors, lawyers, engineers, architects, managers ,directors, business leaders have equally benefitted from the WEST plus WISDOM -Ultimate Life Mastery programme in the past 20 years. Many of the past WEST plus WISDOM graduates have become outstanding leaders in their field in many public sector and private sector organizations in Sri Lanka and many other countries in the world.
Any person interested in creating an amazing and attractive personality to become an outstanding leader can attend the free preview seminar conducted by Dr. Kuma Iddamallena from 9.00 a.m. to 4.00 p.m. at WISDOM TRAINER Auditorium, Nugegoda on May 16.
You may contact WISDOM TRAINER hotline 4 301301 for further information about the Ultimate Life Mastery Introductory Programme.