The past ten days have been like a mini version of the World Spice Festival what with so many international food promotions flying around town and so many international chefs flying into town to tickle the tasteful palate. Indeed, there were so many promotions that despite one's most concerted epicurean exertions one simply couldn't get round to them all. Therefore, I chose a modest three to attend, but I suspect they were the Top Three.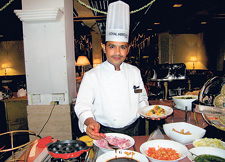 Dishing out an Indian gourmet fare: The Galadari chef
Perhaps one of the best organised was the Indian food promotion hosted by the Galadari. The Indian High Commissioner thought so too for he presided on opening night with an entourage of family and friends.
And what a welcome! You step into the hotel to a live serenade of musicians from the Prathibha Group. I haven't heard a better set of musicians in Colombo strumming old Hindi film songs. Through a specially constructed Indian style gateway and you are in the wonderful world of Indian cuisine.
As showers of jasmine flowers rained down from the ceilings and waiters in kurtas floated around, an iced sculpture of the Taj Mahal looked smilingly upon a buffet so extensive that I managed but about half the offerings.
The salads themselves had exotica like a peanut preparation and then the Chaat counter with its multifarious teasers topped with masalas and condiments the chefs brought from Chennai provided a meal in itself. For those with a more robust appetite, there were rasam, samosas, masala dosas, fried idlis, vadais, North Indian breads, biriyanis and curries.
But the winners were surely the South Indian specialties like beetroot thorana, Chettinad vegetables, lentils, fish and the celebrated Bissibilla rice. Laden as it was with ghee and cashew nuts I couldn't stop a third helping (although I managed a dash of green pea and garlic rice too). But then there were desserts to get through. Certainly, the best kulfi in Colombo recently complemented by super kheers, fig halwas and other South Indian sensations. I am already planning another gourmand excursion before the chef flies back to Chennai.
There is only one place for the dedicated food lover to be on a Saturday night and that is at the Hilton's weekly Indian night, unless, of course, a Szechuan food promotion is on next door at The Wok. I walked into a restaurant whose every table was swathed in gold satin strips announcing, "Reserved". This resembled Spices on the usual Saturday Night Indian extravaganza, but not this time.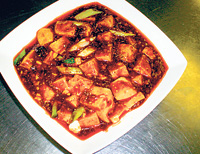 The Hilton's Szechuan specials: Spicy bean curd
The Hilton dispensed with the frills and thrills and instead, focused on what they do best, which is bringing you the finest quality ingredients, on this occasion assembled into preparations full of garlic and chilli a la Szechuan province of China. These Chef Wang Yong Fu from Shanghai effected excellently. The menu was compact but carefully constructed and certainly captivated the imagination of the predominantly Chinese guests.
The guest chef looked pleased as they did justice to his Marinated century egg with green chilli, Braised beef tenderloin with tangerine peels, Chilli and Sichuan pepper or Home style fried pork braised with vegetables and spicy bean paste and Granny's spicy bean curd with minced beef. But it was impossible to get a juicy quote as the chef spoke no English. I was, nevertheless, quite happy with his translations into hot and spicy glass noodles of which one could have oodles.
Cinnamon Lakeside got down a troupe of Irish folk dancers who enlivened lobby life whilst culinary festivities played on at the Dining Room. There was, of course, a plethora of potatoes including a top notch potato and parsnip soup and then potato pie, no not amidst the savouries but in the dessert platter. Whilst mains on the buffet included Irish specialities including stews, Cauliflower Mornay, the rather excellent potato and cabbage colannon etc. the food was prepared by local chefs under the supervision of a chef-singer of the Irish troupe and perhaps slightly wanted Irish rigour. But after several shots of Irish shooters and that fantastic Irish coffee who would have noticed?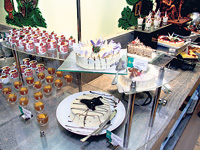 Endless array of Irish desserts at Cinnamon Lakeside
As for me, I had my eye resolutely on the dessert buffet proliferating in an endless array of Chocolate Whiskey cake (Mmm…), Chocolate and Orange Guiness cake, Bailey's chocolate mousse, Dublin finest apple caramel cake, Green Irish coffee mousse, Green Irish whiskey sour jelly, Glazed Irish whiskey tea cake… In short, almost every dessert was Irish whiskey infused. I believe the Irish like drinking not eating whiskey but the gorgeous, extravagantly innovative confections were very much in the Irish spirit- in every sense of the word!
The new acquisition at the Cinnamon Lakeside's scintillating 7 Degrees North is the 30-year-old chef Ivan right out of Spain whose meagre years belie his technical mastery. His just launched and extensive tapas menu is an exercise in vigorously controlled textures and subtle flavours and in mains he has introduced marvellous honey moussaka, paella prepared using authentic equipment brought down from Spain and "proper" cous cous. He will soon unveil his Spanish dessert menu.
As we discuss some of Spain's most celebrated 3-Michelin-star restaurants like El Bulli, which chef rightly finds more academically interesting than tasty, professing a preference for the more substantial Akallare and Martin Berasategi, he evinces apprehension that the Sri Lankan palate has perhaps not been exposed to authentic Spanish cuisine. Well, it is up to him to make the conquest with his fabulous battalion.