She is full of smiles as she prepares to leave Ward 8 of the Sri Jayewardenepura General Hospital in Colombo last Friday for her humble home at Tambuttegama, close to Anuradhapura.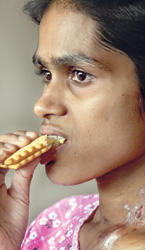 Suneetha Manel
Nearly a year after she drank corrosive to "force" her Lebanese employers to send her home long after she had kept her part of an unsigned contract, M.P. Suneetha Manel can eat again and does not need to take her nutrition in liquid form through a tube inserted into her stomach.
No longer is visible the skeletal young woman whom the Sunday Times interviewed before the operation performed by Consultant Surgeon Dr. Gamini Goonetilleke. Now her face is fuller and she walks with confidence, not gasping in agony and spitting out saliva every few minutes.
The major six-hour operation on Suneetha performed on March 3 was a "colonic substitution of the oesophagus". As the corrosive substance that she drank burnt her oesophagus (gullet) and stomach, the skilful hands of Dr. Goonetilleke and his team bypassed the oesophagus and stomach and attached the large bowel to the pharynx and small intestine.
Doctor ta pinsindda wenna one, says Suneetha explaining that blessings should be showered on the doctor for helping her even more than her father and mother. It was a piece of "tasty" cake that Dr. Goonetilleke offered her when she was able to eat again, she smiles through her tears, adding that these are tears of joy.
Now having three meals a day, she shows us that she is well on the way to good health by eating a biscuit and sipping a soft drink.
With hopes of celebrating not only her son's birthday in May when he turns 11 and her own on July 1 when she reaches 28, at home in a simple manner, Suneetha vows to manage her own affairs with a kada kellak (small boutique) or engage in home-garden cultivations such as mushrooms to keep starvation at bay from her home.
Warm response to our story
Support from generous people flowed in the moment Suneetha's tragic story appeared in the Sunday Times of February 21 headlined 'Deadly drink'.
Ranging from a Rs. 75,000 to Rs. 100 deposits, people took the time and trouble to show their concern and it was with immense gratitude that Suneetha said a big thank you to all of them.
If anyone wishes to extend a hand once again for Suneetha, a widow, to begin afresh and build a stable life and home for herself and her son, donations could be sent to her Hatton National Bank Account No. 00036020311307.