Darshani de Mel is doing what she loves. Flowers such as gerberas, alstroemerias, button chrysanthemums, roses and orchids flow effortlessly into her conversation as she discusses her work with evident enthusiasm.
Darshani entered the floral business two years ago after a stint in hairdressing, launching Flowery Décor at Rawathawatte, Moratuwa and hasn't looked back since. "This is much more interesting and challenging," she says. "It's so nice when you create different arrangements for every wedding and customer."

Darshani de Mel
A key factor, for Darshani, is the customer's budget. While plans for elaborate arrangements tend to be black and white on paper, it finally boils down to rupees and cents and how much one is actually willing to spend. Darshani's aim has been to cater to each customer's options within their budget. Says Darshani: When a bride chooses a florist, ideally, she should make sure that the florist can match her budget and incorporate her designs and ideas into reality."
Inspirations and colour co-ordination for the designs are based on the customer's requirements and the theme (depending on the occasion). A fairy tale themed wedding done by Darshani had elements such as draped net and soft lights incorporated into the decor while a wedding revolving around a Chinese theme had a stunning fan shaped settee-back, solely out of red roses.
Her style of work is essentially hands-on. "I personally supervise everything," she explains. "I go to each and every function and see to all the details - Even the minutest ones like how the table decor is placed or how the stands are kept." And her work is far from over with the end of the function. The process of putting everything in order afterwards is equally important as the arrangement prior to the event - "Even after the reception, I check if everything has been cleaned, instead of leaving bits and pieces around. Especially, in churches, I'm particular that they do not leave a single piece of paper lying around," she says.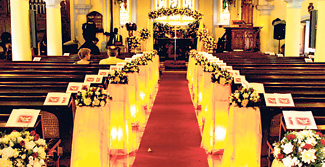 A challenge for the florist is battling weather conditions and making sure the arrangements stay fresh. (Excessive sun results in withered flowers while air-conditioning draws the water from them, leaving a sorry-looking, wilted bouquet). To provide the freshest of flowers, she brings down the flowers from producers just before the function. Apart from settee-backs, magul poru, bridal bouquets, flower baskets and church and hall décor, orders are also undertaken for garlands, cake structures, bouquets and other arrangements.
Preparation is of utmost importance and from the initial step, all activities are heavily interconnected and meticulously planned beforehand. But all the rush and stress before any event vanishes when a customer is satisfied, Darshani says smiling - "It is the highest satisfaction."