Batik is a form of printing an image on a fabric using wax and dyes. What stands out in such work are the bold colours and clear white lines that separate the designs. This ancient art form can be traced back to Egypt.
"This technique was probably introduced to Sri Lanka through the silk route," says veteran designer Senaka De Silva adding that batiks were worn by royalty at the time in Indonesia and Java. Their traditional designs are smaller and more intricate in a sense, he explains. "Our designs are bolder and bigger."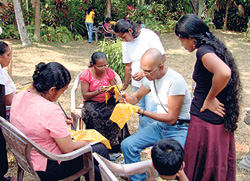 Senaka at the workshop in Biyagama
Senaka who has been involved in the area of textiles for over 40 years wants to have a wider base where he can have workshops around the country.
His idea is to give unemployed young boys and girls who have just left school or women and men who are unemployed a chance to find self-employment.
"I want to help them do this in their homes and revive batiks as a cottage industry," he says adding that with the current economic situation doing something at home will be helpful. The workshops were launched in the Biyagama area on March 7 and 8.
"I started by showing them my designs for them to draw inspiration from," he says. He along with his assistant Jayanthi Peiris then taught them the basics of batiks. "You need to train your hand to wax- it's an art and can only be done with a lot of practice.
We have told them to go home and practise by giving them a scarf to design and we will have a competition to choose the best design and then help them sell their products."
The batik and handloom industry thrived in the 60's but fizzled out due to the introduction of the open economy and the prices of dyes increasing, Senaka said, citing notable names in the industry such as Soma Udabage, the late Vipula Dharmawardhana, Eric Suriyasena and Ena De Silva who pioneered the export of Sri Lankan made batiks.
"I discovered the joy of batiks" says Senaka recalling how he and designer Chryshanthi Fernandopulle were known for their batik then. Shades of Sri Lanka, an annual fashion show held internationally also displayed Sri Lankan handlooms, batiks and crochet work.
"Now it's back but it's not big and we need to get it back on track for people to work in the provinces.
Having worked with the handloom and batik industry I want to find materials with a Sri Lankan identity," he says, adding that this will help revive this industry which has immense potential.
When it started off in Sri Lanka these designs were done on fabrics such as cotton, voile and poplin but now silks and muslins are preferred.
Dyes for this art form tend to be expensive so cheaper alternatives must be found for this industry to do well as a cottage industry, he believes.
"Handmade textiles are the 'thing' abroad mainly because they are unique," he says.
When wearing a batik product the upside is certainly the fact that you will be wearing a one of a kind product, Senaka says, heartened by the fact that batik sarees are catching on again in Sri Lanka.
Senaka is in the process of starting up a bio-diverse craft village in Kalpitiya which will allow him to teach handicrafts which include clay work, rush and reed as well as batiks to those in the area.