By the time she appeared on the cover of a popular film magazine in nothing but a thin layer of body paint and a sultry expression, Pooja Bhatt was already a star.
She was the darling of the gossip columnists, her openness about her personal life sparking many a feeding frenzy. "I remember Shah Rukh calling me and saying 'Pooja, you're on 11 magazine covers. What are you doing? It's a bit ridiculous.' I said, 'I'm not doing anything, I'm just speaking my mind'."
On the cusp of adulthood, Pooja was rebelling against stereotypes of what it meant to be a successful actress in Bollywood. "The Hindi film heroine was meant to be a certain way, she was meant to be seen, but she wasn't meant to be heard. Manisha (Koirala) and I were the only ones who believed that acting was only one part of our lives."
Never particularly prolific, Pooja last appeared in a film in 2001, but by then she had turned producer and director, winning the National Award for her films twice over and becoming India's youngest producer.
As she meets us at the Taj Samudra, Pooja has several projects lined up. The next might even bring her to Sri Lanka - having vacationed many times here before, she says she loves the country and has already begun scouting locations.
At 38, Pooja, is comfortable with the choices made by a younger self. "If you don't have a boyfriend at 18, when are you going to have one, at 80? Why spend your whole life trying to cover that up?" She's done away with her long straight hair, replacing it with a chic, much shorter cut, but her laughter is instantly recognizable from a dozen close frames - it gives her eyes an infectious twinkle and her face an immediate charm. With the bangs of her pageboy cut framing her face, Pooja says she'd still like to act, "but, I would want to be cast in a role where I can play a 38-year-old."
If not for her father Mahesh Bhatt, Pooja might have pursued her dreams of becoming an architect...or an astronaut. Instead at 17 she accepted a starring role in his film. Her debut, 'Daddy', was a heart wrenching story of redemption. Playing opposite Bollywood stalwart Anupam Kher, Pooja gave a much lauded performance as a daughter determined to drag her father back from the edge of despair and alcoholism.
The next few years brought heady fame, and many movies. At 19, Pooja won the box office with her role as the spoiled heiress in the 1991 'Dil Hai Ki Manta Nahin'.
By the time the film premiered, the gossips were linking her romantically with co-star Aamir Khan, but Pooja, always open about her life, denied it forcefully. "Journalists would come to interview me having already decided what the headlines would be," she says. Later that year, she starred in 'Sadak'. She was thrilled to be playing opposite Sanjay Dutt, her adolescent crush. Unfortunately, he insisted on treating her like she was two. But the role, that of a prostitute in the clutches of a ruthless madame was one she relished. "Unless there's a film that makes me want to push my boundaries as a woman, as an actor, why should I do it?"
During what was left of her teen years and into her early twenties she says she didn't do many films in terms of volume - "but I had films that I could really sink my teeth into..."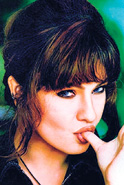 In her days as a Bollywood beauty: The sultry Pooja. Pic chakpak.com
None more so than 'Tamanna'. The film, released in 1998, came after a string of notable movies, including 'Junoon' (1992), 'Sir' and 'Chor aur Chand' (1993), 'Aangrakshak' (1995) and 'Chaahat' (1997) for which she shared a set with Shah Rukh Khan, Anupam Kher and Naseeruddin Shah.
''Tamanna' marked Pooja's first time as a producer. "I was India's youngest producer at 24, and I was a female. I was very proud of that," says Pooja. She found little encouragement among her peers - why attempt this when her career was "going great guns"?
"I come from a film-making family, my grandfather made over a hundred films, my uncle is a film maker, my father is a legend...it was a natural step forward. But what really made me take that step was the story of 'Tamanna'."
The film was about a eunuch's determination to give an abandoned infant girl a life, and was based on a real story. Pooja is proud of what the film accomplished - "I acted in it, I produced it and I won my first National Award at 25 for Best Film on a Social Issue for it. 'Zakhm' happened two years later and I won my second National Award, and I was like 'here's to all you guys who said I couldn't become a film maker'."
For her encore, Pooja produced the thriller 'Dushman' (1998) featuring Kajol in a double role as twin sisters.
In 'Zakhm' she chose to produce what was to be her father's directorial swansong. Pooja would play her own grandmother in the semi-autobiographical movie that followed a family's fortunes through the tumult of the Hindu-Muslim riots of the early 90s. "It was terrifying for me really, because I knew how personal 'Zakhm' was for my father." For the movie, Pooja wore her grandmother's own sarees. The process also gave her a surprising insight into her father's childhood. " I was playing a part, but I was able to witness my father's childhood...it took me back to how it must have been."
Still, she's not competing with her father. "I don't have any illusions that I can fill his shoes, I don't see many film makers who can," she says frankly. "All I've tried to do was be myself." ." Easier said than done, but the words in a letter her father wrote to her have given her all the courage she needs. "He quoted Swami Vivekananda - 'be truthful and be fearless for you are a part of divinity and not a sin'. I feel like these words are tattooed on my forehead."
Though her work takes her to Mumbai, she spends much of her time, ensconced with her VJ husband Manish Makhija and eight dogs in a ten acre farm on the edge of a thousand acre forest. Obviously content, she declares, "From the time I was 16, I wanted to get to 40.
I do believe that life for women starts at 40. You really know who you are most, you're not trying to be what any man in your life wants you to be...I don't know why women hide their age - you should flaunt it, you should celebrate it," she says, leading by example.