The two women in the garden have known each other for fifty years. Through personal tumult and professional success they've remained firm friends. So when Sybil Wettasinghe decided to invite another writer to serve as her biographer, she could think of no one she trusted more than Vijita Fernando. "She's someone who knew me from the beginning, I thought she would know me better than anyone else," says Sybil.
It is the day after 'The Story of Sybil Wettasinghe: A Biography' was launched with much fanfare at the BMICH. Now, as they have many times in the past, the two women sit down to coffee and conversation in the lovely seclusion of Vijita's house in Rajagiriya. They've raised children and survived personal bereavement together, and together they've continued to explore their art. They are perfectly at ease in each other's company.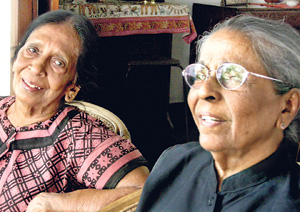 Vijita and Sybil: Basking in the successful publication of the biography.
When Vijita first met Sybil, it was in the 1960s under the roof of Lake House Newspapers. Here Vijita worked at The Daily News and Sybil was in another wing at the Sinhala paper Janatha. Short-haired and friendly, Vijita was one of the few journalists willing to cross that invisible line that divided the English writers from those working in the Sinhala medium.
It was that willingness to reach out in trust and optimism that Sybil still values greatly in her friend. "We were drawn together," says Sybil. Of the two, Sybil possesses the clearest memories –Vijita readily admits to being a little hazy about those early months. "What I remember about her were those beautiful strips she used to draw." While her admiration for Sybil the artist is considerable, she reserves her deepest regard for the woman she knows Sybil to be.
"In her private life she was able to come up after overcoming many traumatic experiences. Her creativity became even better after those experiences of personal trouble, distress and sickness... after that she really blossomed," says Vijita.
Professionally, neither woman shows any signs of slowing down. Vijita is a multi-award winning writer and translator, while Sybil is a spectacularly gifted and prolific artist and writer. They are devoted to their art. Both women lost their spouses several years ago, "but that never stopped my creative work...that is when you need it most," says Vijita. Dharmapala Wettasinghe, whom his wife affectionately addressed as Dham, and Vijita's husband B.J.B. 'Bonny' Fernando were themselves great friends. The two families remain closely intertwined – "her children are like my children," says Sybil, adding that they have grown up on a diet of her stories and pictures.
"The one remarkable thing was that we never had differences, we never quarrelled," says Sybil, but Vijita qualifies that statement by introducing the one exception – the biography. Even then, the two women found middle ground. While exploring Sybil's 81 years of living, Vijita says she "didn't discover new things, but I discovered new attitudes. What she wanted, she wanted." Laughing she says the writing process would have to begin anew every time Sybil remembered another story from her past. Vijita is also Sybil's best critic – "I give my manuscript to Viji, she reads it and tells me what is good and what is bad." "I am always frank," adds Vijita.
This arrangement seems to work for both women. They have collaborated on several projects before this, including two collections of folk tales in English drawn from Andare and Mahadenamutta, with Vijta serving as author and Sybil as illustrator.
They are bound to work on more, but in the meantime they are basking in the successful publication of the biography. It seems that the passing of years has only given them more to talk about, and more to appreciate in each other. A morning phone call, for instance, is a regular part of their schedule - "just like my tea, my good friend revives me," says Sybil.