"My life has been a long beautiful dream, a medley of fantasies and realities and enchantingly magical wonders…so it seems to me." This is how 'The Story of Sybil Wettasinghe - a biography' launched last Tuesday ends- Sybil talking to biographer Vijita Fernando, her contemporary at Lake House decades ago.
A distinguished gathering packed the BMICH Restaurant (other venues are being renovated) where old tales were related, a great artiste was recognised and a quality book launched.
Having listened to the speakers showering praise on her Sybil confessed that what anyone of her age (she is over 80 now) needs is affection. She gets plenty of it, she said, adding "I am fortunate I was able to hear what people normally say at a person's funeral - all the good about that person."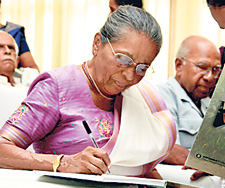 Sybil autographing a book at the launch
She recalled how she had written for four generations and although she was writing for children, she always respected their ability to appreciate something good. She hoped her biography would be an inspiration for the next generation and ones to follow.The speakers stressed that Sybil is a unique personality. Her drawings are unique, her stories unique and her creative talents unique. Professor Nimal de Silva said her writings and illustrations are "child like" and not "childish". Her illustrations are unique because they can never be copied, he pointed out.
"Each line she draws tells a story," he said. "The animals and birds are laughing and talking. The trees and leaves do the same. There is so much life in her drawings. That's the difference."
For Vijita, the biographer, it was no easy task. "When Sybil asked me whether I could undertake to write her life story I readily agreed because we had known each other for many years working together at Lake House. I thought it was going to be plain sailing. It was not to be. Sybil brought loads of stuff - literally sacks full of scrap books, newspaper cuttings, magazines. It took about six months to sort them out," Vijita recalled. And once she started writing, Sybil would call her at all odd times to say she remembered something more and go on to relate a new story. This went on even after the final draft was done. But she didn't mind it because the story was getting richer.
The final product is a most interesting story of Sri Lanka's foremost story-teller and illustrator of books for the children - "a national icon", as reputed author and administrator Leel Gunasekera put it. The illustrator who created a stir with the H.D. Sugathapala's 'Navamaga' readers had come a long way. He also remembered Sybil's contribution to the activities of the National Book Trust at the time he was chairman.
Having promptly agreed to publish Sybil's life story Sarasavi Publishers' chief H. D. Premasiri decided to make it a double publication - in English and Sinhala. A wise decision since the book is bound to have a big demand among both categories of readers..
In the audience was another of Sybil's Lake House contemporaries, Sumana Saparamadu who, in her preface says Sybil is "not only a celebrity at home, the icon of children's literature in Sinhala, and acclaimed abroad as a master story teller and illustrator of stories for children." She reminds us that no writer in Sri Lanka has had her writings translated into so many languages and published in so many diverse countries.
As Sumana says, this is more than a biography in the conventional sense. The story is interspersed with extracts from some of her landmark publications which brought her international fame along with comments by critics, Book Associations and children, her most critical readers.
The well illustrated book has been designed by K. M. I. Swarnansinghe who has done a fine job in doing up the old photographs. Tharanjee Prints have done a commendable job with the printing.
Sybil certainly deserved a publication of this nature for her hard work of over half a century and more, and for putting Sri Lanka on the map. The sensitivity she has demonstrated in her writings adds to her uniqueness. Piyawathie Jayasuriya who translated the original English text to Sinhala commented on this aspect in her remarks. She quoted the 'Concluding thoughts' as an example.
It's Sybil recalling the last moments of her husband Dharma. She gets back home from hospital, "not in tears but with a sense of loss and pain" and pens a few lines "as a way of thanking him."
"I remember the first time
You pressed my hand
Shy, uncertain, vacillating
You thought you were wrong.
You asked me to marry you
I read it in your eyes
I answered 'yes' not in words
You read it in my eyes…
Minutes before you passed away
You pressed my hand again
Fearless, firm, reassuring
And then you were gone.
I looked into your eyes
You gazed into space
A vacant wordless blank
I read nothing."