My first indelible impression of Vajira was when she danced the swan in "Nala Damayanthi" a role Chitrasena created specially for her, while her sister Vipuli was Damayanthi and Chitrasena cast himself as Nala. This was in 1949, and the image of her very fluid, emotive movements, has remained a silent inspiration to me.
Through the years, our dancing paths have criss-crossed many theatre stages in Sri Lanka. While Vajira stayed committed to perfecting traditional dance, and helping Chitrasena create and develop a new story telling tradition through indigenous techniques, I was experimenting, first, with Western dance forms, then with the less exacting Indian ones, until I found my own niche and fulfillment in the Bharatha Natya tradition under one of the last of the great gurus of Tanjore, T.S. Govindarajapillai.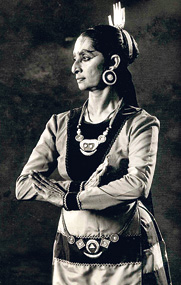 Commanding presence: Vajira in Chandalika
As long as I have known her, Vajira has chosen to walk in the shadow of Chitrasena, first her Guru and later her husband. Ever self-effacing, never claiming any credit for herself, she has always taken a step back allowing the larger than life Chitrasena to take all the accolades.
I would unhesitatingly say that it was she, who was Chitrasena's greatest promoter, and the powerhouse behind the Chitrasena Dance Company. Even now she is dismissive about her role in the Chitrasena Kalayathanaya story.
Sixty of Vajira's 78 years on earth have been dedicated to the cause of Sri Lankan Dance. Vajira's first exposure to a Colombo audience was in 1948 as a member of the massive cast that enacted the "Pageant of Lanka" – a stupendous production by J.D.A. Perera, to mark the granting of Independence to Ceylon. It was a spectacle, which I can only describe as a 'live' Cecil B. de Mille production.
Chitrasena's contribution was an excerpt from the Ramayana. The lead role of Sita was danced by Irangani Meedeniya (later Serasinghe), to Chitrasena's Ravana, while 16-year-old Vajira was cast as the deer.
In the same year, she danced her first human character role in the "ballet" Chandali. Although choreographed by Chitrasena, he recognized her talents, and gave her the space to create her own character. From then on Vajira continued to grow artistically, both as performer and choreographer.
As prima ballerina of the Chitrasena Company, Vajira danced in almost every country of the world - Canada, Japan, Britain, India, Australia and most countries in Europe included. In the USSR, home of the Russian ballet, she drew rave reviews. Her dancing skills have been witnessed and acclaimed by Presidents, Prime Ministers, religious dignitaries, ambassadors, celebrities and royalty. In fact she has nothing more left to achieve.
As a choreographer, since her first venture into dance composition in the 15 minute "ballet" Kumudini, set to music specially composed by Ananda Samarakone, she went on to create 17 more "ballets".
Her last creation "Bera Handa" was composed to showcase the talents of ten young male dancers, who were selected by her for special training under a scheme called "Preserve the Dance Project 2000". She was personally responsible for collecting funds for their up-keep and training for a period of 2 ½ years. She herself and other specialist teachers took the boys through a comprehensive course from the traditional "Ves Bandima", through to the "Kohomba Kankariya".
"Bera Handa" was her experiment to train them in creative dance, stagecraft, lighting and other aspects of performing in a modern context -her selfless contribution to boost the dwindling numbers of traditional male dancers in Sri Lanka.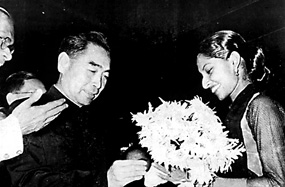 As the chief swan in Nala Damayanthi with her sister Vipuli as Damayanthi and (top) receiving a bouquet from Chinese premier Chou-En-Lai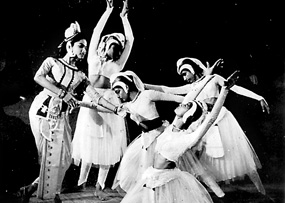 Simple in her ways, deeply spiritual, dance has been Vajira's life. It has given meaning to everything she has achieved and all that she has endured. The personal sacrifices she made were many, but I know she has no regrets because the only thing that mattered was the Dance.
Apart from all her achievements through the years, she has always maintained her poise and grace as a woman and mother.
Vajira has nurtured a family immersed in every aspect of national dance, ensuring that the third generation continues the tradition. She is the proud co-creator of the First Family of Sri Lankan Dance.
In Upekha, her much acclaimed elder daughter, we have seen the distillation of the talents of both Chitrasena and Vajira.
Now, her grand daughter Thaji (her son Anudatta's daughter) shows all the talent, discipline and promise of the young Vajira, combined with an exceptional grace and purity of line, that is her own.
To Vajira the country owes a great debt. She, and she alone can be the only claimant to the title -Grand Dame of Sri Lankan Dance.
Deshabandu Vajira Chitrasena celebrated her 78th birthday on March 15. To celebrate the occasion, the students of the Chitrasena-Vajira Kalayathanaya last evening hosted a performance of a section of the Rata Yakuma ceremony by traditional dancers of the Patha Rata tradition. This ceremony is usually performed throughout the night to invoke blessings on mothers who are unable to bear children.