It is encouraging and heartening to hear that the Ven. Uduwe Dhammaloka Thera, at present a Member of Parliament, has decided to quit Parliament and devote his time to Dharma Deshana (the teaching and preaching of Buddhism).
All monks, whether in Parliament or not, should renounce politics. The Chief Incumbent of the Bellanwila Rajamaha Viharaya has said that "it is a matter of serious concern that many Buddhist monks are engaged in politics, against the wishes of the laymen".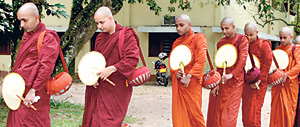 Buddhist monks going on pindapatha: A rare sight today
He calls on monks "to get back to the Aramayas and Temples and preach Buddhism". He says Buddhist monks should "look after people's spiritual needs", and that they should "disrobe if they want to continue in politics and spew hatred and cause division".
There was a time, years ago, when Buddhist monks were seen in public only when they went out collecting alms in a bowl ("pindapatha") to take back to their respective Aramayas and Temples.
They would be seen again only the next day, when they went out once again in search of alms. Of course, you also saw monks attending funerals and seeking medical treatment, and so on. But by and large Buddhist monks stayed confined to the temples, spending most of their time in religious pursuits and living according to the Buddha Dhamma.
Buddhist monks also shaved their heads as a sign of humility and piety. Today's Buddhist monks, on the other hand, do not demonstrate the same humility or piety. Some have short-cropped heads, wear stubble on their faces, and even sport slight moustaches.
Some have sold their Benz car permits and taken the cash. Others are steeped in politics. They appear at political functions and participate in rallies, satyagrahas, and "fasts unto death". To cap it all, one monk is President of the Sri Lanka Nurses' Union.
And why are the Venerable Mahanayake Theras silent on this matter? The highest levels of the Buddhist clergy have failed in their duty to censure monks who get involved in politics and who do not go about their real duty, which is to preach the Lord Buddha's teachings on "maithree" (loving kindness) and observe "vinaya" (code of conduct for monks).
All our politicians should take the blame for this sorry state of affairs. The Mahanayakes, Sangha Sabhas and Buddhist organisations should ensure that Buddhist monks are barred from taking part in politics. Buddhist monks should devote their time to religious pursuits and leave politics to the politicians.
Alternatively, the government should, in the best interests of all Buddhists in this country, enact legislation to ban monks from politics.
Perhaps our President, who has scored a landslide victory with the Buddhists who support him, will give this matter his serious consideration.
Concerned, Dehiwala