Whenever I asked Ira Fernando whether I could write about her again, her response invariably was: "Wait until I am gone." Sadly this has now come to pass.
Ira, whose story I told in this newspaper four years ago, passed away in London on March 2, aged 92. As Iranganee Lynette Dias, daughter of Mr. and Mrs Lambert Dias of Panadura, she was born to great wealth and status. Though she encountered great personal tragedy and hardship in her life, her forceful personality remained undimmed through it all.
Four years ago, I wrote of her struggle to bring up her only son Michael in the UK, under very different circumstances from those she had experienced in her privileged childhood. In later life, her intrepid nature, thirst for new experiences and love of travel took her all over the world, and resulted in many colourful exploits.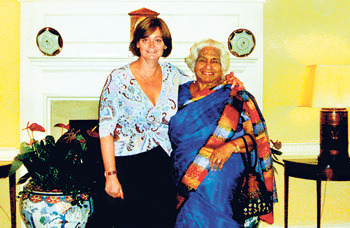 A wish fulfilled: Ira at No 10. Downing Street with Cherie Blair
At the end of the article I wrote that she still had some unfinished business. The self-styled "Duchess of Colombo" had been almost everywhere she had wanted to go and done almost everything she had wanted to do. From the pyramids of Egypt to the beaches of Waikiki, from the Vienna Boys Choir to the Oberammergau Passion Play, she had been there, done that.
She had only two regrets: not having been to the Iguazu Falls in Argentina and not having been inside No.10 Downing Street. She had more or less (but not entirely!) given up on the former but still hankered after the latter. She had asked various people whether they could arrange this for her, but without success. One day she thought, "Nothing to lose, I'll have one last try," and wrote to Cherie Blair's private secretary. Two weeks later she had a phone call.
"Mrs Blair would love to meet you. When would you like to come and whom would you like to bring with you?" (She called me excitedly, saying "I did it! I did it!")
Ira took her son and daughter-in-law with her, had tea with Mrs Blair and her daughter and went on a tour of No.10. This was no token visit: they were there for nearly two hours. Ira had her photo taken with Mrs Blair against the famous mantelpiece - the one you see in newspaper photographs of the Prime Minister with visiting heads of state. Ira had the picture on her Christmas cards that year (2006), using her recently acquired expertise on the computer to make the cards herself.
In 2007 Ira turned 90 and planned her birthday in grand style several months in advance. First, she had a service at her local church, followed by a dinner party for 90 friends at the Holiday Inn, Bloomsbury, festively decorated with (what looked like at least 90) pink balloons, where she cut a "90"- shaped cake with pink roses, made by her friend Daya Perera, and made a memorable speech (which her son warned guests would cover the whole of her 90 years and might take just as long to listen to!) However, everyone was riveted by Ira's life story. Afterwards, guests sang all her favourite songs, including "There'll be bluebirds over / The white cliffs of Dover," danced the Hokey-Cokey (Ira was particularly keen on this and had laid on two tapes and two cassette recorders, just in case one didn't work) and as a finale, did a conga round the room! Guests had flown in from four continents to attend the party.
Ira was still travelling. She loved sending postcards while on her travels. In May 2006, at the age of 88, she set off to visit her relative Eunice Dias in Toronto, because the latter was in hospital with a broken leg. How many would cross the Atlantic to personally deliver a Get Well Card? I received a postcard dated 20th May 2006 captioned "Mid-Atlantic. Queen Mary. Thanks be to God, the sea is very rough [??] and I'm….[indecipherable scrawl]. Breakfast in cabin. Skip lunch. Dinner - excellent. Had to dress up tonight, the captain invited me for his party. Lucky I brought 2 sarees."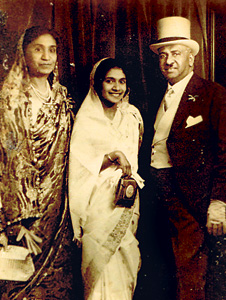 Girl from Panadura: Young Ira with her parents Mr and Mrs Lambert Dias
In her 89th year she went once more to the Holy Land and walked the Way of the Cross (the route Christ is said to have taken, carrying the cross on the way to being crucified at Mount Golgotha). In 2007, not long after her 90th birthday, she went to Spain with family and friends. I had no idea she had gone off somewhere else until I got a mischievous postcard headed "The Arctic." "Surprise, surprise! A few miles south of the North Pole, temperature -21C - but it's still warmer than London. She wrote that she had spent four days in a "lovely hotel in Rejkjavik - very expensive, only eating breakfast" and from there travelled three hours out to sea to see "lots of whales jumping about like anything."
However, after her 90th birthday, there were signs that she was finally slowing down. In December 2007 she fell ill and this turned into pneumonia.
She had many anxious visitors while in hospital, bearing flowers and boxes of chocolates. Recuperating at home in her flat, the string of visitors continued, now bringing all kinds of special treats ranging from string-hoppers to crab curry. (Though, of course, it was impossible to give Ira anything without her giving you back as much or even more, in some form or the other. She was punctilious about repaying favours.)
She showed us photo albums of her travels. There were also photos on the wall of her parents, and of a young and very good looking Ira. One could believe her when she said she had had many suitors, and not only because of her parents' wealth.
"Once a married man offered to divorce his wife and marry me. I told him not to bother. I was more interested in my tennis! I used to follow the Wimbledon matches, especially the men's results." She was the first woman member of the Panadura tennis club. She watched Wimbledon with passionate intensity, absolutely glued to her television. Friends were asked not to disturb her till the tournament was over.
Ira turned down many "eligible" suitors, to the irritation of her parents. But when Maxie Fernando came along, it was "match over, three sets to love" (a serendipitous pun!) He was the nicest, the most charming AND the handsomest man she had ever met. They were married within a few weeks, against the wishes of her family. She was blissfully happy during her tragically short married life.
Ira said sadly, "Do you know that I have now lived 42 years without Maxie? He always said to me, 'Take care of Michael; he's the greatest asset we have; to hell with all your property.' He was right. I sold it all to bring our son to England. I think I have done my duty, and now I am ready to go."
That was two years ago. The bout of pneumonia had weakened Ira and affected her psychologically, but she still kept going. One reason was that she was always busy finding ways to make other people happy.
These projects in her last year included arranging for Nijole, her Lithuanian daughter-in-law, of whom she was very fond ("She really looks after me, that girl") to go to Royal Ascot, something the latter had always hankered after. The friend who had made this possible was next in line. "Now, what can I do for Premilla, she bought the tickets and took Nijole all the way to Ascot in her car…?"
In January, less than two months before she died, she organised and hosted a joint birthday party at a hotel for her daughter-in-law and two of her friends. Invitations were designed and printed by Ira herself for this party, which had a "hippie" theme! All guests (and the hostess) came dressed as hippies. You can see why she was a 92-year-old like no other….
A loyal old girl of CMS Ladies' College, Ira had never missed a Founder's Day service, and she was determined that 2010 would be no different. Despite being ill with a stomach complaint, she managed to sit though the entire service at Christ Church, Chesea. This was in mid-February, her very last outing. On March 1, Ira had a fall in her flat, and, though in pain, adamantly refused to set foot in a hospital again.
When she was finally hospitalised the next morning, she experienced sudden kidney failure and passed away around midday. She had left instructions that no-one was to see her dead body, or even be told of her death until after she was buried.
What can one possibly say that would capture the spirit of Ira? Through the veins of this extraordinary woman surely coursed some special elixir, which gave her a bubbly, irrepressible, "never-say-die" attitude to life and an eternal youthfulness. But she was made of more admirable stuff than mere enthusiasm for life.
She embodied so many fine qualities. She was loyal to the memory of her husband, selflessly dutiful in bringing up their beloved son, hardworking and patient in the face of adversity, thoughtful and generous to her friends, disciplined in fulfilling her commitments, honest in her dealings with the world at large.
Rest in peace, Ira. They don't make them like you any more.