An improvement of commodity prices and crop volumes in the fourth quarter enabled Kelani Valley Plantations PLC (KVPL), the plantation subsidiary of Dipped Products PLC, to end 2009 on a hopeful note, the company said this week.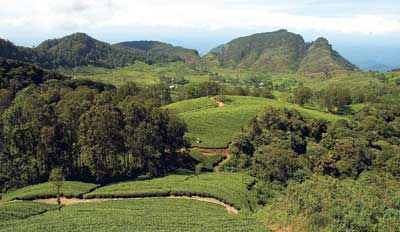 According to figures released to the Colombo Stock Exchange for the year ending 31st December 2009, KVPL, which reported a loss before tax of Rs 215 million at the end of its first nine months, has reduced this loss to Rs 28 million at the end of the year, recouping Rs 187 million in its final quarter.
"A year in which a worker wage increase determined in September with retrospective effect from April added Rs 350 million to KVPL's operational expenditure, 2009 was also characterised by substantial crop losses due to erratic weather, resulting in the company's tea and rubber crop declining by 19 per cent and 14 per cent respectively," the statement added.
Combined with poor commodity prices in the first quarter, this reduced production resulted in turnover for the year declining by 9 per cent to Rs 2,860 million, and the company posting a loss after tax of Rs 40 million.
KVPL and Hayleys Group Chairman Mohan Pandithage said: "With worker wages constituting around 60 per cent of operational expenses, the industry's future viability depends on wage increases being reciprocated, at least in part, by concomitant productivity improvements."
Analysing the prospects for the company, he said: "As long as oil prices sustain current levels, rubber prices may reasonably be expected to remain firm, and the improved buying power of the oil producing countries will keep tea prices, particularly of the low grown and associated varieties buoyant." Mr. Pandithage however cautioned that "this market stability relies heavily on the delicate balance of several factors, including economic and political, which as the industry has frequently experienced to its detriment, are subject to sudden decline."
Pointing out that the sizeable worker wage increase has contributed an unexpected addition to operational costs which can be compensated only with improved productivity, reasonable price levels and optimum harvests; he said cost control at operational level will continue to receive priority attention. "But understandably, it is a strategy restricted by the need to maintain essential inputs which, if extended beyond prudent limits will become self-defeating," Mr. Pandithage said.