Jaffna - Out of the 43 Central Bank (CB) approved commercial bank branches, 10 have already started operations in Jaffna, according to CB officials. "There are 33 more to start business and many are slated to open branches this quarter," Ananda Silva, Deputy Governor CB told Business Times on the sidelines of the opening ceremony of HSBC's branch in Jaffna.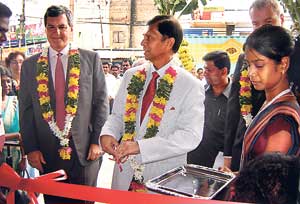 At the opening
He said that approvals are granted maximum within a week for branch openings. CB Governor, Nivard Cabraal, who was the chief guest at the ceremony, said that with a view to fast-tracking the development in the North, the government has now launched a development program titled 'Vadakkin Vasantham' where about Rs. 295 billion (US$ 2.7 billion) will be invested during the next three years, towards rehabilitation and development activities.
"This programme is expected to cover the reconstruction of roads and other transportation infrastructure, the upgrading of electricity for domestic housing and industry, water supply, agriculture and irrigation infrastructure and the improvement of the manufacturing framework. The government also intends to implement a special poverty reduction programme and establish the required social safety net, quickly," he said.
He said that the CB has introduced a Special Loan Scheme to boost the livelihood development of the people in the North. Under this scheme, an initial sum of Rs. 3,000 million has been alloted to be disbursed at a concessionary interest rate of 9% per annum to the eligible micro, small and medium scale enterprises, through several participating financial institutions. The repayment period could extend up to five years with a grace period of six months.