This year, Sri Lanka is gearing up to celebrate Christmas and the New Year in style, seeking to make it the most festive of seasons in almost three decades, following the end of the 27-year war with the Liberation Tigers of Tamil Eelam (LTTE).
With the country in upbeat mood, the hospitality industry is expecting a good turnout this year for the various festive events organised by hotels, restaurants, bars, clubs and other entertainment venues.
Last December, when the war was at a peak, many hoteliers and event management companies were forced to cancel or postpone events. Now, with the easing up security measures, hoteliers are preparing for a greater number of tourist arrivals and a strong local presence at seasonal functions.
Hotels and social clubs around Sri Lanka are busy preparing their annual Christmas and New Year's programmes, and some events are already sold out, according to sources. Hotels in Colombo are promoting their December programme, with children's Christmas parties and Christmas dinners topping the festive agenda.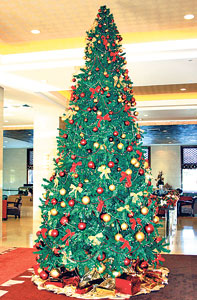 Cinnamon Lakeside Hotel gets ready for Christmas.
The Galadari Hotel in Colombo will hold its traditional Christmas-New Year functions, and the hotel management is looking forward to a good turnout of guests this year. "We are already getting lots of calls and bookings, much more so than last year," said Galadari Hotel public relations manager, Ms. N. Rupasinghe. "We are also getting a lot of bookings for private functions this year."
During Christmas 2008, company functions and cocktail parties scheduled at the Galadari hotel had to be cancelled or postponed because of the tense security situation. This year, however, the mood is very different and bookings are going well, Ms. Rupasinghe said.
The Cinnamon Grand Colombo also has an event-packed December schedule. The hotel programme includes a music event, "Moods of Christmas", featuring the Soul Sounds, on December 20, and a Christmas Carnival for the whole family on December 21, among a host of other events.
The Colombo Swimming Club will have its usual annual Christmas programme, including the traditional lighting of the Christmas tree on December 11, a jazz evening on the 18th, and a children's Christmas party on the 19th.
Colombo Swimming Club general manager David Hills said he expected a much better turnout this year. Last year's Christmas was low-key largely because the club building was under renovation, he said.
"We are fully booked for the season," he said. "Many club members living overseas are coming down for Christmas. We expect things to really pick up after our annual lighting of the Christmas tree. The celebrations will go on until the 31st night."
A steady stream of tourist arrivals this season does not, however, mean lots of extra dollars for the country. According to Srilal Miththapala, president of the Tourist Hotels Association of Sri Lanka, most of the tourist bookings for this year were made earlier this year when the war was at its height and Sri Lanka was being promoted as one of the world's cheapest tourist destinations.
"There is an increase in the number of tourist, arrivals but they are coming here at a cheap rate," Mr. Miththapala said. "And because of the global recession, tourists will be careful about spending."
He said many of the hotels that were low key last year were planning to capitalise on this season year's post-war euphoria and optimism. They are also targeting local clients on a big scale.
Because Thursday, December 31, is a Poya day, hotels will be serving alcohol only after midnight. The management at Colombo hotels are hoping party-goers and 31st night revellers will not change their 31st night plans, and that their New Year parties and dinners will be well attended.
Hotels and restaurants holding New Year celebrations will be issued special licenses so they can sell liquor after midnight, said Excise Department Commissioner General, D. G. Hapuarachchi.
Meanwhile, the Sri Lanka Tourist Board is holding a three day Christmas festival in Negombo, December 11 to 13, meant exclusively for locals.
The event is being organised in response to requests from Negombo-based hoteliers, who would like to see an event similar to the much-publicised Hikkaduwa Beach Festival held earlier this year.
"The Hikkaduwa beach festival had some bad press, so we are taking a completely different approach and presenting this as an exclusively family-oriented programme," Negombo Hoteliers Association president Hyacinth Gunawardena said. The Tourist Board has received several enquiries about the beach festival from Indian and Middle East clients, she said.
The Negombo beach festival will be an annual event to mark the festive season and also to market Negombo as a tourist destination, said Vipula Wanigasekera, general manager of the Sri Lanka Convention Bureau, the country's events organising authority.
"The first six months of this year were especially difficult for the tourism industry because of the security situation," he said.
The organisers hope to attract a total of between 10,000 and 15,000 people to Negombo on December 11, 12 and 13. The festival's action-packed programme will include entertainment for the whole family.
Meanwhile, along the coast down south, hoteliers report a slight drop in tourist and domestic bookings for December, compared with last year.
Bentota-Beruwala Hoteliers Association president U. Perera said things were picking up slowly, but that bookings were better last year. "The perception of the Sri Lanka security situation has not changed much in some European countries, so arrivals from those parts are few, but we expect things to get better after the season," he said. Along with the hotels and clubs, event management companies are also capitalising on the post-war euphoria and Sri Lanka's improved image overseas.
Sesiri Pathirana, chief executive officer of event organiser Midnight Mist Entertainment, said the company is bringing down international metal musical act, "As I Lay Dying", which will be presented on December 18 and 19.
Online bookings are already coming in, and telephone enquiries are being received from music lovers in India and the Maldives as well, he said.
"Now that the war is over, the entertainment scene is going to keep getting better," Mr. Pathirana said. "People need entertainment. We are expecting an audience of about 4,000 people on both nights."
Sunil Perera, of the popular music group Gypsies, said the band is booked every season. "We get our usual bookings," he said. "This year, with Poya falling on the 31st, there might be a few issues, but we'll be playing at the Cinnamon Lakeside on 31st night."
(Extra reporting by Thushara Kulatunga)