A tea exporter and three others who were initially said to have been abducted in Colombo by an unknown group are now under interrogation for what the police claim to be an extortion racket.
Soon after businessman Shantha Ratnayake and three others were reported missing on Wednesday night, police spokesperson SSP I.M. Karunaratne claimed they had been abducted. However, 24 hours later the spokesman claimed they were in CID custody.
He told the Sunday Times the police Special Task Force had carried out a raid on a house in Kitulwatte, Borella on a tip-off and arrested the men. "The STF carried out this raid as they had received information that the four persons were going to extort money from some people. We acted on the information received," he said.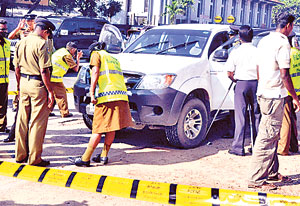 Police examine the abandoned car in which the suspects travelled.
"Now the CID is carrying out investigations to ascertain if the four men were involved in an extortion racket. So far no details have been revealed and there has been no breakthrough. Investigations are at a preliminary stage," he said.
He added the initial statement that four persons were missing was based on the information made available to him. Tea exporter Shantha Ratnayake was said to have left his house in Mabole, Wattala at 8 p.m. on Wednesday accompanied by two of his employees and a sub inspector, attached to the police headquarters crime division identified and identified as Suresh Silva.
The four were travelling in a white Toyota double-cab and had gone to Mc Donald's at Rajagiriya for dinner. Ratnayake's wife had called her husband on his cell phone several times when he didnt return home, however it had been switched of. On Thursday morning she called police emergency and reported he had not returned home.
By Thursday afternoon the Borella police discovered the white Toyota double-cab they had travelled in abandoned near Castle Street hospital in Borella.
The Sunday Times learns that the STF had first produced the suspects at the Borella police station and later taken them to the Colombo Crime Division (CCD) from where they were handed over to the CID.