A special UN representative arrived in the country yesterday, on a five-day visit to look into the welfare of children in the post-war phase, UN Spokesperson Gordon Weis said.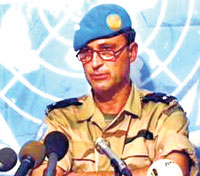 Gen. Caemmaert
General Patrick Camm-aert, a special representative for Radhika Coomaraswamy, the UN special rapporteur on children in armed conflict, would be touring the Wanni.
General Camaert is also expected to meet President Mahinda Rajapaksa, other political leaders, local and foreign child-rights activists, Mr. Weis said.