Three persons, including two journalists, were seriously injured yesterday morning when a huge Mara tree fell on their bus, which was parked outside a resthouse in Ambepussa.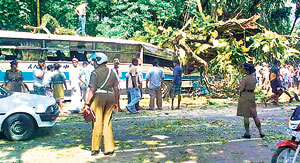 The damaged bus
Some 60 business writers were on a two-day business trip to Dambulla, and had stopped for breakfast at the resthouse. The business trip was organised by a leading private telecommunications company.
The two injured journalists work for an electronic media organisation, while the third injured person is a female employee with the telecommunications company.
Another five journalists suffered minor injuries. The three injured persons were rushed to the Kegalle hospital. One is in critical condition and has been transferred to the Colombo National Hospital.