Less than a month ago, the faces of the two main candidates at the upcoming presidential election — President Mahinda Rajapaksa and former Army Chief General Sarath Fonseka — smiled down on passers-by from the one and same billboards to mark the defeat of terrorism.
The billboards that showed them together have disappeared. Instead, a new cut-out campaign or a propaganda war has begun, In Colombo, President Rajapaksa is almost without competition in the cut-out war with a 75-foot figure of his erected at the Horton Place roundabout while billboards of him have been put up at prime locations.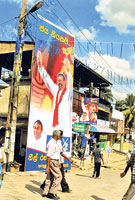 A bill board of President Mahinda Rajapaksa in Welisara
His main rival's campaign has so far been confined to posters. One poster carries an eye-catching slogan: "The SF operation has been launched".
As the political war gathers heat, reaping a windfall are people involved in the business of designing and putting up billboards. Most of these businessmen hesitated to talk because they did not want to be labelled as loyal men of one candidate. But they agreed to talk on general matters.
They said a 20'x10' billboard could cost between Rs. 250,000 and Rs. 300,000 but with elections approaching, more competitor companies had come up, leading to a price war. Jayaruk Liyanage of Wonder Crafts International said there were many requirements to be fulfilled when erecting billboards or cut-outs.
"Safety is priority number one. The other requirements include the payment of display charges to the relevant local council and insurance cover," he said.
The traffic police should be satisfied that the hoardings do not distract motorists and be contributory case to accidents. But during election time, many of these laws and requirements are observed in the breach, advertising agencies said.
"Election related displays are there only for a short period and are pulled down once the election is over. So the rules are more lax when it comes to election campaign-related hoardings," a Colombo Municipal Council official said.