The world's best ODI player with a fantastic record not just in ODI's but in Test's too, Sanath Jayasuriya may be 40 plus but is still raring to go. Despite a rather modest return at home in the recent T20 games against New Zealand there is little doubt that Sanath Jayasuriya is still very much the Master Blaster and holds the key to a very great extent with regards to the success of Sri Lanka in the shorter version of the game and in the Champions Trophy in South Africa. Known for his attacking batsmanship with his liking for the upper cut and the pull Jayasuriya can be devastating when on song. All Sri Lankans will be naturally hoping that "Sana" as he is fondly known will be able to fire on all cylinders come the big event in South Africa as there is very little doubt that he is one of the most feared batsmen in world cricket.

Looking in to his beginnings Jayasuriya started his game as an aggressive middle order batsman and was always hailed as a future star for Sri Lanka. This was further confirmed when on a tour to Pakistan with the Sri Lanka A team Jayasuriya had the rare distinction of scoring back to back double hundreds, a feat which I am sure will be extremely tough to emulate! Especially for a visiting batsman in Pakistan!
Despite his brilliance in batting in the middle order Jayasuriya's ascendancy to the openers spot was something totally unexpected. Having been asked to open on the controversial tour to Australia in the mid nineties, the great left hander since then has never looked back. It was on the same tour that both Jayasuriya and Romesh Kaluwitharana another hard hitting wicket keeper opening batsman started the innovative batting approach to the first ten overs of a ODI game by smashing the bowlers to all parts of the ground giving the game a new dimension and definitely to the rest of the teams some food for thought in its approach to ODI cricket. Come 1996 Wills World Cup Sanath Jayasuriya received a major recognition being picked the most valuable player of the tournament, ahead of some big names such as Mark Waugh, Sachin Tendulkar, Brian Lara and Sri Lanka's own Aravinda De Silva, confirming his status as a rising star of the world scene.

Sanath Jayasuriya had arrived and was ready to stay for a very long time in the game!

Since then Jayasuriya has definitely been the star of many Sri Lankan shows. Be it smashing one day hundreds or scoring the 340 against India at the Premadasa Stadium in that World Record Test score or the breathtaking double hundred against England at the Oval, when Sri Lanka won a test match for the first time in that country, Jayasuriya was simply all class. With his phenomenal record of almost 20,000 plus runs at International cricket with 42 hundreds and 99 half centuries plus his 417 wickets, he will surely be a very strong contender for the title "Sri Lanka's greatest ever Cricketer".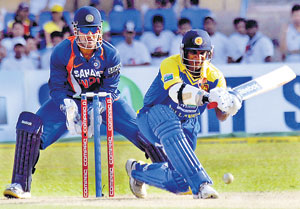 The master is still a match winner
It will be with that background and pedigree that Sanath Jayasuriya will enter the ring against the world's top bowlers, when the ICC Champions Trophy begins with the opening game against the top ODI team in the world, South Africa. Taking a much closer look at Jayasuriya's skills at the advanced cricketing age of 40 it's interesting to note the many changes he has adopted in his batting and how beautifully his game has been fine tuned. Sanath Jayasuriya is without an iota of doubt one of the hardest working cricketers in the world. When critics questioned his ability to cope with the short rising ball directed at the body or his horizontal shots at the top of the order, Jayasuriya's reply was to let his broad bat talk and that he achieved with a lot of dedication and commitment which he still religiously pursues even now. One could only but marvel at Sanath watching him on the cricket field, either fielding so brilliantly with his running, pickups and even accurate throwing or stifling a batting line up with his left arm spin or simply smashing the bowling around.

Jayasuriya has challenged even the fittest men in the cricketing arena of Sri Lanka in that aspect. It is a clear indication that he is still able to deliver. With not many more Everest's to conquer for this great left hander, I am sure he would want to call it a day when he is on a high. And one way of being on a high is to perform in the Champions Trophy in South Africa. Sanath we know you have done it in the past and we know you can do it again.

Roshan Abeysinghe is a leading cricket promoter and an international cricket commentator