Has Asia seen the last of world's No1 ranked umpire Simon Taufel live in action? After his second bitter on-the-job experience that he tasted in Sri Lanka, the 38-year-old Australian umpire has written to the ICC and requested them to leave him out of any assignments in the Asian region in the future.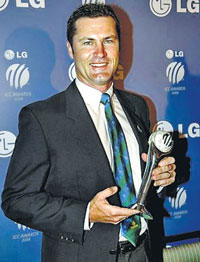 Simon Taufel
Taufel's both bad experiences involved the Sri Lankan Cricket team. First it was the March 3 terrorist attack that the Lankan cricketers faced in Lahore, Pakistan. It was during the second Test between the two countries when the Lankan team bus came under a terrorist attack. As a result six security people and two civilians died while many Sri Lankan cricketers were injured.

In that incident Taufel and his co-umpire Steve Davis also from Australia along with the other ICC umpiring staff involved with the game were left well shaken up when they too experienced the same wrath while travelling in the umpires van just behind the Lankan team bus.
In Pakistan's reciprocal tour of Sri Lanka a few months later the Lankan cricket authorities who had hired a new security consultant threw a heavy security blanket to see that everyone involved in the real functions of the game have a smooth run. Ironically during the second Test match played at the P. Saravanamuttu Stadium, on one occasion the umpires van had to travel to the venue without any security provided to them. This was a result of an official bungling which ended up in the team bus leaving the hotel minus the umpires' vehicle. Here Taufel had protested, but continued to officiate in the game and also the next match which was played at the Sinhalese Sports Club Grounds.

It is also reported that in a third incident, the SLC once again failed to provide security to Mr. Simon Taufel when he was travelling to the Airport after the completion of his assignment in Sri Lanka. For a man who was initially traumatized by his Pakistan experience and then seeing a real security blanket put up in Sri Lanka especially for the cricket series, this may have been a very bitter experience.

Upon his return to Australia, Taufel had written a strong report to the ICC citing the security lapses thus requesting them not to assign him to any matches which are played in the Asian region.

Taufel will also not officiate in the IPL Champion's League Trophy matches which will be played in India too.

Meanwhile the ICC has forwarded contents of Taufel's letter to Sri Lanka cricket for their observations.
We may not see Taufel in action again in the Asian circuit.