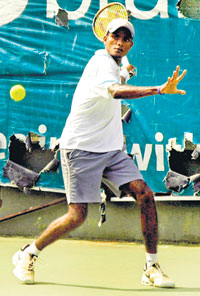 Harshana ready to return. Pix by Saman Kariyawasam
It is very rare in any sport to find an individual who reaches number one and remains there to dominate for a long time, and Harshana Godamanne has been doing just that in Sri Lankan tennis.
He won the Men's singles 4 times, the mixed double's twice and the men's doubles 4 times (with Rajeev Rajapakse) at the Sri Lankan Tennis Nationals. He has also represented Sri Lanka at the Davis Cup for 6 years, and played in the ATP circuit fulltime for 2 years, with a ranking of 811 in the world. The only other Sri Lankan to achieve an ATP ranking is former Davis cup skipper Arjun Fernando, but that was nearly 2 decades ago.
Harshana says he has been playing tennis for as long as he can remember, first against his older brother in the backyard and then when he was 4 years old he went for tennis lessons with his first coach Sylvester Francis, who later coached his school team at Royal College Colombo and who he still keeps going back to when problems arise in his game. He has trained at a tennis academy in Thailand for 2 years with Dominic Utzinger, who coached Roger Federer in his youth and was the coach of the Sri Lankan Davis cup team at that time.

But this young star talent has stopped participating in ATP tournaments and his current rank has slipped down in between 1100 and 1200. When asked why he chose not to take part anymore he says that it has nothing to do with choice and that he had no option but to quit the ATP circuit as he does not have a sponsor and what tournaments he did take part in the past was paid for through his own pocket and he went on to say that by the end of this November that his rank will slip below 1500, which means that he will have to start from scratch as the ATP does not rank players below that mark. "So I plan to play 1 or 2 tournaments to keep my Ranking, if I lose my ranking I can't get in to play other tournaments" he said.
"To play the ATP circuit you have to pay for coaching, air fare, lodging, etc. It would roughly cost around $25,000 a year to play in about 15 tournaments of the circuit, and you at least have to play a minimum of 18 tournaments to keep in touch and this is just for the coach and air fare which costs a lot, I usually cover the hotel bills with the prize money I win." He went on to add "I never traveled to Europe as it costs too much, the only time I did, I played 3 tournaments in Switzerland, I stayed at Dominic's(coach's) place, other than that I've played in Australia, Asia and the Middle East."

When asked about the involvement of the SLTA (Sri Lanka Tennis Association) "The SLTA weren't really involved in my tennis, it was basically me, my parents and my coach, If the SLTA don't promote their best players how will we get sponsors? The SLTA says they will get money but then we have to wait and see, for it is yet to come."

"Even the new coaching programmes they started need to go on for longer, it's all about continuity, they haven't been consistent up to now, foreign coaches were given targets for 2 years, it'll take 2 years to really get to know a player, to understand their game, see how they react and it'll at least take 4-5 years for results to show."

"In Sri Lanka, if you are a cricketer then its fine but any other sportsman can't make a living, and since I needed a backup plan in my life I started concentrating more on my degree studying International business" he further explained "I started CIMA right after school, but Davis Cup training made me leave the island and I lost track and couldn't get back to it, so I stopped and started this at ANC which I did for 6 months and then the Davis Cup came up and the officials pushed me to play and I lost touch with my studies again, and then I met my coach and he convinced my parents to let me play, from there I played for 2 an a half years, and I stopped again so that I could get back to my degree"

"What hurts is that it's my effort and my money spent but when something good comes out of it the SLTA put it out as if it was their work and take the credit, after I stopped playing they said they spoke to the ministry to get funding, but why now, I asked? I need to thank my parents for funding me for so long, my father told me that I can choose to go on when I decided to stop, but I didn't want to see him end up bankrupt," he added jokingly.

"I never wanted to stop full time tennis, it is a waste of all I've done and I was very sad when I stopped. It took me more than 2 months just to get over it."

It struck me when speaking with this calm, well spoken young man, who seemed more mature than his age permits, that it is not only he that would be losing out in this, but Sri Lanka as a sporting nation might be losing a true champion and how does the SLTA expect to live up to its new slogan 'Gamata Tennis' (Tennis to the village) when they cannot look after their best player? Would a child from the village be motivated to pick up the game, never mind a racket when the best player in the country is being treated like this?