I came across a cartoon that showed a dog sitting high up on a tree beside a surprised cat.

The cat looks at the dog, clearly wondering how the dog got up the tree. Dog turns to the cat and says, "Sheer will, I tell you. Sheer will."

During the last two weeks I talked about coaching and fitness. The aspects that make a champion player or team do not end there. Rugby being highly demanding from a physical standpoint it is the mental side of the game that separates the best players from the rest.

To be Rugby Tough requires the mental focus to give the game everything you've got. For which you have to learn how to apply mental skills effectively in specific match situations. Being Rugby Tough is learning new ways to toughen your mindset and eliminate costly mental errors that inhibit performance. This requires emphasis on individual player development and the psychological skills you need to excel at the sport.

Certain psychological characteristics help achieve excellence. These include commitment, quality practice, goal setting, imagery, planning at all levels, distraction control strategies, perception of pressure, performance evaluation.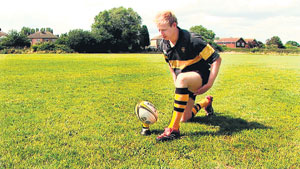 Concerntration is the key word
It has been found that imagery is important for development and performance in many sports. Look at a high jumper mentally rehearsing a successful clearance before each jump. Look at the serve of a good tennis player. Look at a place kicker such as, Johnny Wilkinson or any other great goal kicker before taking a kick at goal. The better place kickers are meticulous in placing the ball and taking the kick. This needs a lot of mental preparation and imagery running through your head. Taking a kick at goal can be a lonely exercise if you are not prepared. The noise and or any other distraction can put you off. If you have mastered the art then all you do is imagine you are where it is best suited for you and the ball will sail through. Such rehearsing is possible in any set move such as a scrum lineout etc.

The young player who can acquire the skills and progress in rugby is the one who is committed for quality practice. High quality practice comes from those who have personal goals. These personal goals can only be established if you do an evaluation after each game and or training session. The committed player will be working on personal goals during individual as well as team training sessions. You may often see a goal kicker practicing his kicks outside the group sessions, yet how often will you see a player practicing his tackles, his body position, ball handling or evasive runs alone by himself.
There is also the need for a player to practise under pressure to transfer what he learned to a game situation. Do we recreate a pressure situation at practice and try how the player performs when under fatigue such as taking a kick at goal and or a crucial line out almost at the end of the game.

If you practise with a set goal to achieve something where the player breaks down under pressure unless that pressure is recreated the players may break down again

Motivation is something that nobody can give a player but what he has to give himself and so is confidence.
It is not something a coach or a captain can give but can work the players towards it. Often it may happen that Captains and Coaches portray themselves as motivators. Is it possible to motivate someone unless that person wants to achieve the dreams and goals the motivator provides. What these motivators have to do is to create the inspirational spark that will ignite action. The fire can start only if the right fuel is available.

Motivation is an important element for success in rugby. You need to be motivated for the season, for fitness training for skill training, and for pre game psyche-up. The reality is that it is not what you have to do but you want to do something. For rugby you must identify the goals you have to achieve and to realize that you have to motivate yourself to have to do something to get what you want. The process of goal setting helps you to get where you want to be from where you are. It helps to keep your motivation and optimum levels of confidence. It helps to know your strengths and weaknesses which is a good starting point to set your training programmme. It helps to prioritize the needs and act accordingly.
Yet all this will be useless unless there is self confidence to perform at peak level. Is this something that can be developed and improved? It helps if you look at what levels of performance feed back you have to assess for improvement of self confidence. One way is to measure performance accomplishment.

How you have performed in the past and how it has satisfied and or improved yourself with others. Another is by watching other players perform. Develop a role model and try to get up to that level of your role model. Consider what other people tell you that you have performed well. Self confidence can be made or broken on how you interpret an upcoming performance both physically and emotionally. One good way to develop self confidence is to have performance goals that are measurable and realistic to achieve within a time period.

To succeed in the game of rugby it is just not one aspect that is required but a combination of many.
Those who succeeded have had each aspect handled by experts in each area and not left it to the coach to be the mother of all. What is needed is a coach for strategy helped by experts of each aspect of the game. Talk to you later.

Vimal Perera is a former Rugby Referee, coach and Accredited Referees Evaluator IRB