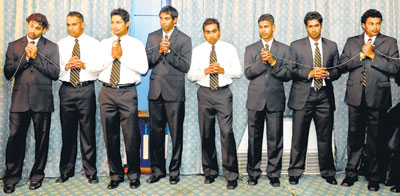 Mahela with his team mates at the SLC head quarters partaking in religious activities just prior to their departure to South Africa.
We arrived in South Africa late on Wednesday after a long flight from Colombo with the disappointment of losing the Compaq tri-series final to India still fresh in our minds. This, however, is a new tournament and we need to focus on the task ahead and not on the past.

Thursday was spent resting as we tried to shake off jet-lag and also physically recover from the tri-series. It's not easy for the guys to jump from tournament to tournament, especially for the bowlers because their workloads are so tough these days. We all needed some time with our feet-up.

In the evening, though, we had a really good team meeting with an open discussion about what we need to do to win the Champions Trophy. We do this before all series and tournaments and the idea is for everyone to participate as we finalise our game-plan. I thought it was a very productive meeting.

On Friday we started our adjustment to conditions with a practice game against Pakistan in Benoni, about one hour's drive from our base in Johannesburg. With this being the early season we expecting pitches to have some help for the quick bowlers but we do not anticipate the surfaces being too fresh.

This is a big multi-lateral tournament and the organisers will have ordered good quality pitches. When you play a bilateral series in South Africa in September or October as an Asian team – like we did back in 2002 – you might expect lots of bounce and movement for the seamers, but I think the pitches in this Champions Trophy will probably be batsmen-friendly.

Still, you have to adjust and we don't have much time for that with two games squeezed into three matches. The first against Pakistan ended up in a defeat but you should not read too much into the results of warm-up games. Their main purpose is preparation and we usually do lots of things we'd not necessarily do in a normal game.

I think we have a good chance of doing well here, but as Sanga said to the media when we arrived we're happy being tagged underdogs. Let the media fuss over the other teams while we focus on our game. We have a strong all round unit, including a bowling attack with great variety and a batting line-up with a nice mix of styles as well as experience and youth.

The return of Murali after injury will naturally be a huge bonus. We missed him during the Compaq tri-series, especially in the final, but it would have been a senseless risk to rush him back. We are also keeping our fingers crossed about the recovery of Thilan Samaraweera who has been struggling with a thigh niggle. He should be OK for the first game.

This tournament is also generating extra interest because of the growing debate over the future of the ODI game in the wake of Twenty20's growing popularity. Sachin Tendulkar has lent his considerable weight to the demand that the one-day format needs a major overhaul while the ICC has commented in the past few days that they expect this tournament to show the current format remains popular.

My own belief is that one-day cricket has an important role to play in cricket's future. The three formats – Tests, ODI's and T20's – are all distinctly different. Some cricket fans like all three formats; others prefer one format over the other. That's fine. Diversity is good and cricket must appeal to a wide variety of fans.

However, I agree that one-day cricket's format can be tweaked. The game should evolve and the national cricket boards are right to experiment. I think the Power Play rules, including the newer batting Power Plays, are an example of how the 50-over format can be improved.

The latest idea being discussed is the idea of splitting the 50-overs into two 25-over innings with the two teams rotating. There are two versions of this: one that remains effectively one innings with only 10 wickets per team; and one version with two separate 25-over innings, which effectively means two T20 games.

I think the idea of splitting the innings is worth consideration and a trial, but I don't see the point of turning 50-over cricket into two T25 slogfests. It would be too similar to T20 cricket, lead to overkill and ultimately fans (as well as players) will lose interest.

One big advantage of swapping every 25 overs is that it will immediately solve the problem we are facing with the difference in conditions during day-night games – a growing problem highlighted by recent matches at Premadasa International Stadium. Both teams would have to bat during the day and during the night, meaning the toss plays a less important role.

There is no harm in trialling this format at a domestic level. England are also moving towards 40-over cricket. I personally don't think that will work, but it will be interesting to watch them experiment. Cricket cannot move forward and grow unless we are willing to evolve. We have to be prepared to innovate and it is heartening to see this is happening worldwide.