Hotel Nippon which is the main landmark of Slave Island, Colombo 2 is 125 years old. Started as a mansion apartment complex during Colonial era, Nippon is one of the oldest buildings in the vicinity.
Though today, Hotel Nippon is famous for its Chinese Rolls, it has much more to offer to its clientele. Service and cuisine are something to impress with.
'Yes, we have the best Chinese Rolls in town. But that is not the only attraction we offer to our guests. Hotel is also a popular place for lunch outs and private functions' said Leonard Caderamanpulle, the General Manager of the Hotel.
The hotel consists of 31 operating rooms on two floors. Five of them are with private balconies facing the main road and 21 are with A/C facilities. The hotel caters to a large number of office executives, middle and up-market clientele.
Since Hotel Nippon is placed at an easily accessible location in the city, it has attracted many clienteles from busy office crowd to diners and leisure seekers after dark.
'Corporate functions, small parties and wedding too are on our service menu' Caderamanpulle added
The hotel boasts of serving many segments in the society ranging from dining and conference facilities to holiday and business stopovers in comfortable large rooms. The popular Sakura conferences hall, famous Orient Restaurant, Sweet and Sour Corner for specialized dishes, bar and take-away counter are some of the attractions of the hotel.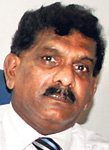 Leonard Caderamanpulle
Leonard joined the hotel 17 years ago and he was promoted to General Manager Post in 1999. Since then he brought many changers to the hotel attracting both Sri Lankan and foreign clientele.
Being a result-oriented man Caderamanpulle began his hotel career rather different from the run of the mill people who pass out from different hotel schools. I have joined the hospitality industry from Pegasus Reef Hotel as a Time Keeping Officer in 1990. From there I climbed the ladder to the position where I am now' he said.
'I have few of plans for the hotel. Since we have closed down the hotel after the bomb attack, gradually gaining the glamour back. New restaurant, a discotheque and a few sight-seeing package tours for the tourists and the popular Dream Bar is on cards' Caderamanpulle said.
The food outlets and the bar/restaurant is open form 7.00 a.m. till 10.00 pm for the public. Thereafter the in-house guests are served by the 24-hours room service.