Women's Day, the Women and Media Collective has organized a four-day film festival with internationally
awarded latest released films from March 23 to 26 at Russian Cultural Centre, Colombo-7 at 3 pm and 6 pm.
The film festival will open with the English movie 'Brick Lane' directed by Sarah Gavron on March 23.
Based on the award winning, best selling novel by Monica Ali, the 2007 film revolves around a young beautiful Bangladeshi woman, Nazneen. Trapped in a loveless marriage, she lives with her husband and two children in London, while instantly yearning to be reunited with her beloved sister back in her homeland.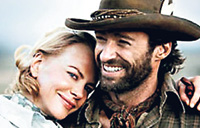 'Australia'
'The Secret Life of Bees'
She is enthralled by the exciting, adventurous life led by her sister back home who writes of her tales in letters sent to her. Based on her widely acclaimed autobiographical novels, Marjane Satrapi together with Vincent Paronnaud brings together a classic masterpiece as an animated film entitled "Persepolis".
The film is a powerful, compelling story of a young girl growing up in Iran against the backdrop of the Islamic Revolution in the late 1970s.
Through the eyes of the precocious and rebellious nine-year-old, Marjane's own turbulent life is unfolded.
'Australia' directed by Baz Luhrmann is an epic and romantic adventure film that revolves around an English aristocrat woman, Lady Sarah Ashley and the rough-hewn local cattle drover. Set in the era of World War II the film will be screened on March 25.
"The Secret Life of Bees", based on the New York Times' best selling novel by Sue Monk Kidd, the film is an enchanting and moving story which revolves around a 14 year-oldgirl named Lily Owen. The film is set in South Carolina in 1964. After her mother's tragic death, Lily lives an unhappy life' with her abusive father but is taken care of by a black woman named Rosaleen. Although the Civil Rights Act has just taken effect, Rosaleen is severely beaten up by a group of racist bigots in town; a horrific incident witnessed by Lily.
Lily runs away in search of her mother's past taking her beloved Rosaleen with her: Finally, her encounter with the Boatwright sisters changes her life dramatically. Directed by Gina Prince- Bythewood, the film will have only one screening at 6 pm.