'Punsanda Paaya' 2009 the most sought after and well known mega musical cum variety show will come alive after a lapse of four years on Sunday, March 29 at Ummul Maleeha Memorial Hall (air-conditioned), Keselwatte at 6.30pm. Elaborate arrangements are been made to make this, a show with a difference and the best ever 'Punsanda Paaya' variety show ever held.
At the strike of 6.30 in the evening the band 'Spirit' will play the signature tune, Siribara Moratu Game' for all artistes to get back stage and the show would roll on to a precise theme as a novelty created by the Co-Chairman Lucky Deva, Shiraz Sudar and the organizing committee.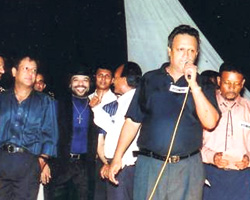 The veteran musician Nissanka Wimalasuriya of Wheels Combo fame will join the, "Spirit" in accompaniment to add value to the band. Sunil & Piyal Perera of Gypsies, C L Fonseka, Paul Fernando, Christopher Paul, Nihal Nelson, Saman de Silva, Derrick de Silva of 'Crystal Set', Lincoln de Silva, Viranjan and Eranjan Perera of Super Pink N Purple, Clinton Fernando of 'Wheels Combo' fame, Priya Peiris with Labambas, Merril Fernando of 'Amigos Romanticas' fame, Tilak Perera, Nihal Fernando, Jagath Devapriya and Pimal Fernando (formerly of Golden Chimes) Sureshni Wanigasooriya (formerly of 'X'periment ) Lilanthi Jayaratne, Rita Bertus, the Trio Brian Coorey, Ivan de Silva and Hiran Fernando of 'Pink & Purple' fame who will be in harmony are just a few names of a heavy caste of artistes who are billed to perform for this mega show 'Punsanda Paaya'.
To add variety to the show, Chandani Silva will take over and emulate her father late Freddie Silva and join up with Dilshan Sampath to do a song with a comedy flavour. Don Guy and Company fame would do a creation to bring laughter and a bevy of MAF dancers Rupika Sutherland, Janadhari Salgado, Varuni Cooray, Kanani Fernando and Neluka Wickremasekera will add colour with their rhythmic dancing throughout the show. To top it up the compeering will be taken over by two pairs Hemaka Fernando & Lakma Salgado and Chrishmal Warnasuriya & Lanka Perera.
This show will help the Forum to raise funds for many projects which include promoting and uplifting amateur talent and providing welfare funds for assisting members and their families in times of need.