Sri Lankan born Australian singer-songwriter Alston Koch has been commissioned to write the theme song for the opening of the C.I.O.F.F ( Conseil International Des Organisations De Festival De Folklore Et D'Arts Traditionnels) 'Festival De Folklore Et D'Arts' to be held in Cuba in November 2009.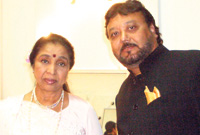 Alston with Asha Bosle
It was officially announced by the President of C.I.O.F.F Dr. Udomsak Sakmunwong last week. Alston Koch had previously written the theme song and album for the most expensive sporting event in the World 'The America's Cup' held in Perth Australia in 1986 when Australia's prized yacht 'Kookaburra' defended the America's Cup and recently wrote the official song for the World Champion bowler Muttiah Muralidharan. The song appeared on the international pop charts and was a much requested song in 2008.
He also wrote and performed the song 'A land like no-other' at the UNWTM in London for Sri Lanka Tourism as Sri Lanka's Ambassador for Tourism which was commended and applauded by the British Minister for Tourism as 'Sri Lanka's gift to the world'.
Alston Koch has been requested to make a special appearance at the festival in Cuba where the song will be performed and launched with a backdrop of artistes from around the World to more than a 100 million viewers via the live TV satellite programme 'Festival De Folklore Et D'Arts' throughout the World.