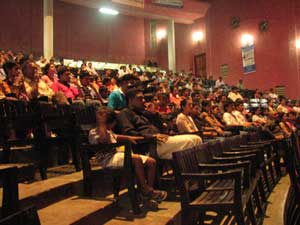 Dharmaraja College Kandy regarded as one of the leading Buddhist schools in Sri Lanka has decided to make some contribution towards the untiring and selfless efforts of our armed forces. On numerous occasions, old boys associations of different batches have been doing yeoman service to the country through various projects. Following the footsteps of the old members of the association The Rajans too have decided to donate the following equipment to the army hospitals in Kandy and Anuradhapura hospitals for the use of the injured soldiers.
For the Anuradhapura Hospital
Multipara Monitor
Electric Suction Apparatus
Patient Trolleys
For the Kandy General Hospital
Saline Stands
Air Mattresses
Dressing Trolleys
Water Tanks
The equipment for the Anuradhapura hospital will be handed over to the commander in charge of the Northern Province on the 21st of this month.
In aid of this excellent project a stage drama called "Hari Apuru Dawasak" was staged last Friday at the Dharmaraja College Auditorium, Kandy. The guest of honor for this occasion was the director, teaching hospital Peradeniya.
The school show was held on the 6th of March 2009 at 2.30 pm and the public show was held at 6.30 pm on the same day.