Prices of essential items including food and vegetables in Jaffna are said to reduce with the opening of the A-9 road this week, as farmers and fishermen in the north have started to send their produce by road.
The first convoy of food from Colombo moved to Jaffna along the A9 road on Tuesday and two days later 11 lorries carrying produce from the north left for Colombo.

Mustaq
The lorries from Jaffna carried 48,250 kg onion, 1,300 kg beetroot, 5,000 kg prawns and 5,000 kg dry fish. This is the first time food convoys moved along the A-9 road after it was closed in August 2006.
So far residents in Jaffna have been paying 10% to 20% more than the Colombo price for all items due to the closure of the road. Jaffna farmers too were unable to market their produce at a reasonable price.
Now all the vegetables in Jaffna are priced below Rs. 60 a kilo and some range between Rs. 15.00 and Rs. 20.00. Farmers said ladies fingers were Rs. 20 a kilo, and pumpkin and beetroot each Rs.15a kilo. Jaffna farmers say they are happy to market their produce at a reasonable price; so far they have been unable to meet their cost.
Meanwhile, in Colombo the goods transported from Jaffna are being unloaded in the wholesale market in Pettah. "We sent a lorry from Colombo on Monday with a stock of sugar and on return we brought beetroot and red onions. We hope to go back soon," M.T.G.
Mustaq from Jaffna told The Sunday Times.
He said that the opening of the link would be helpful as goods from Colombo could be transported to Jaffna and in return produce from the north will be brought to Colombo helping to reduce prices both, in the North and in Colombo.
He said the stocks brought from Jaffna were locally produced, and collected and sent by the farmers themselves. Stocks of tobacco, potatoes and pumpkin were due from Jaffna which would invariably reduce prices in Colombo.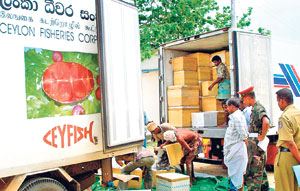 A food convoy being checked at Muhamalai before proceeding to Colombo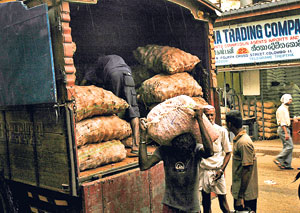 Onions from Jaffna being unloaded at Pettah market. Pix by Saman Kariyawasam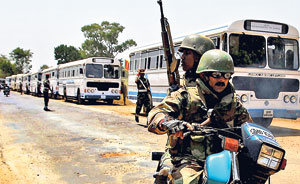 Troops travelling along the A9 route. Pic by Sanka Vidanagama