Investigations into the alleged abduction of former Sri Lanka Rupavahini Corporation (SLRC) Chairman Prof. Dhammika Dissanayake continue with Police still unable to make a breakthrough.
Recounting his experience on Wednesday night, Prof. Dissanayake told The Sunday Times that he suspected there could be a link between the incident and an article that had appeared in a State-run newspaper alleging that he had undertaken a contract to write a book tarnishing the image of the President.
On Wednesday evening, at about 7.30 p.m. two people had rung the bell of Prof. Dissanayake's residence and when he had asked as to who they were via the door-phone they had responded saying they were friends of his.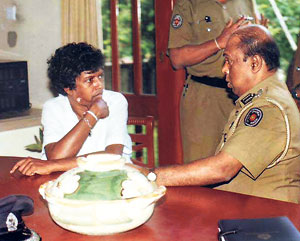 Friday's picture of Prof. Dissanayake talking to a police officer after his release
"I told my domestic to check who was at the gate. At first they had told her they were friends and later when I asked her to get their names, they had said they were from the police. I went to check and they told me they were the same police officers who had arrived earlier in the day to get some forms filled," Prof. Dissanayake said.
The domestic too had recognised them as the same officers who had arrived earlier in the morning, Prof. Dissanayake said. However, this time they were in civilian clothing although when they came in the morning they were in uniform, he added.
Recounting the sequence of events Prof. Dissanayake said the officers wanted a form filled as part of a registration programme of residents of the area. "While I was filling these forms another person in sunglasses walked into the house. The other two said he was the OIC of the Kahathuduwa Police station. Soon three or four more people walked in. One had a pistol and two were carrying T56 rifles," Prof. Dissanayake said.
However, he told The Sunday Times that he knew the Kahathuduwa Police OIC and this was a different person. Meanwhile, Kahathuduwa Police OIC Sarath Perera denied any involvement of any police officer from the Kahathuduwa police station.
According to the professor his domestic had then been made to sit on a chair at gunpoint and the person who had first spoken had told him that they were not there to get forms filled up.
"He said that I had written a book slandering the President and asked for the book's CD. I told him that I hadn't written any such book and that they were referring to the article in the state run paper. I also told them that I had taken legal action on the article," he said.
The visitors had then wanted to search his house, he said. However, they didn't search thoroughly, only opening several cupboards just once, he added.
"They took about 50 CDs that were stacked near the computer and told me that they wouldn't hurt me and they just wanted to get a statement from me, and I agreed. When I was walking out I saw that there was a white van parked outside. It wasn't there earlier," he said.
According to Prof. Dissanayake, he had got in to the vehicle and the group had informed him that he had to be blindfolded. This was done, and a little later into the journey his hands had been tied with a plaster.
"After we travelled for a while they took my identity card, phone and wallet. On our way they asked me various questions of a political nature. We must have travelled for about one to two hours. The vehicle stopped several times on the way. They offered me food and water as well. Once we stopped at a filling station," he said.
At the end of their journey, still blindfolded, Prof. Dissanayake felt he was being taken to the second floor of a building close to what he felt was a hill.
"Once inside, I was told that a statement had to be recorded. I was asked about the book, and other political questions as to what my connections were with the opposition leader. Later they asked me what I would like to eat for dinner and they gave me hoppers," he said.
As Prof. Dissanayake was still blindfolded, the others had helped him to eat, bringing the gravy close to his mouth so he could eat without difficulty, he said. According to Prof. Dissanayake, he had been addressed respectfully throughout and was not harmed in any way.
"They told me that in a country like this there was no point in carrying out the kind of work that I did. "We have not harmed you or your house and belongings in any way; we'll only keep the CDs,' they told me," he said.
The group had then told the professor that he would be dropped off at a place close to his residence. About half an hour later, still blindfolded, they had told him that they were dropping him at a bus stop and had told him to take another road close by where he could find help and return home.
"I was dropped near a paddy field, and they left after patting me on the back and saying 'api yanawa (we're going)," he said.
The professor had then walked down the road and later found out that he was in Kirindiwela. Residents in the area had told him where he was, and he took the 5 a.m. bus to Hanwella. Later he had got off at Kottawa from where he had taken a three-wheeler back home.
Meanwhile, Prof. Dissanayake's domestic who had been tied to a chair had managed to untie herself and run to a neighbour's house where they had alerted the police about the incident.
"My house has now been given police protection, and I've been asked to contact the Colombo Crime Division (CCD) if there were further incidents," Prof. Dissanayake said.