The Trincomalee Police have arrested four persons, including the teenage son of a local woman police officer, in connection with the the kidnapping and murder of six-year-old Varsha Jude Reggie.Varsha was abducted from Trincomalee St. Mary's College on Wednesday and her mutilated body was found dumped in a roadside drain on Friday afternoon.
Trincomalee Police Chief Superintendent (SP) Vaas Gunawardene said the arrests were based on information provided by the victim's classmates. He said the mastermind behind the botched kidnapping is an Advanced Level student, who is also a computer instructor, and known to the victim's family.
Varsha Jude Reggie (circled) and her Grade 1 classmates on their first day at school, on January 12. Pictures at bottom Varsha's mother with the Trincomale Magistrate, and at top right Varsha's school principal, Sister Pavalaranee

.
Police say the suspect, who arrived at the school gates on Wednesday in an auto-rickshaw, had told Varsha that her mother was sick and persuaded her to get into the vehicle with him. Before leaving, Varsha told her classmates that she was going home with a "Computer Uncle".
The whole of Trincomalee is mourning for six-year-old Varsha Jude Reggie. Varsha's body was found inside a bag in a drain on New Moor Lane, in the heart of Trincomalee town. According to reports, Varsha's death was caused by strangulation. Her throat was slit, she was blindfolded, her hands and legs had been tied, and her mouth had been taped over. There were burn marks on her body. Also in the bag were her uniform and schoolbag.
On Friday morning, the day Varsha's body was found, the principal, teachers and students of St. Mary's Girls College had staged a protest on the school premises, demanding that Varsha be released immediately, unharmed. Law enforcement officers came on the scene and requested the school to call off the protest, giving assurances that all steps would be taken to find the abducted child. The school called off the protest. It was about 11 am. An hour later, the school principal, Reverend Sister M. Pavalaranee, received a telephone call.
The caller informed the principal that a bag containing the body of a child had been left in a drain in the middle of town. When the call came, the principal was preparing a fax message to send to the President of the country, the Minister of Education and other prominent persons, seeking their help to find the missing child.
Pandemonium broke out in the school when the news came that Varsha's body had been found. Varsha was among a couple of hundred primary pupils who were admitted to Grade 1 on January 12 this year. She was placed in Group A of Grade 1.
According to accounts, on Wednesday, March 11, at about 11.45 am, after classes had ended, Varsha and her friends were sitting on the school verandah waiting to go home. Every day, the same three-wheel driver brings Varsha to school and takes her home.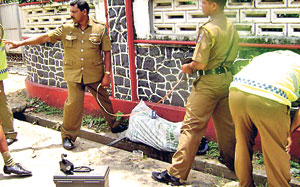 Police arrive on the scene where Varsha's body was found.
Varsha's home is in Poompuhar, in Paalaiyoothu, a suburb two kilometres distant from Trincomalee town. Varsha lived with her mother; her father is based in the Middle East. School sources say a three-wheeler turned up in front of the school and a man in a black shirt stepped out and told Varsha that her mother was sick, and asked the six-year-old to get into the three-wheeler with him. Varsha obliged and climbed into the vehicle.
A short while later, Varsha's usual three-wheel driver turned up. As soon as he heard that Varsha had gone off in another vehicle, he called Varsha's mother, who then rushed to the school. It was then about 1 pm. The news was soon all over town that Varsha had been kidnapped and that her abductors were demanding a ransom of Rs. 3 million.
Class teacher Ms K. Dhanapalan described Varsha as a "bright, vivacious and active girl". According to her teacher, Varsha would come to school downcast and tearful, but would settle down after being cheered up by the teacher and her classmates. By the end of the day, she would be merry and laughing.
"A month ago Varsha's father, during his last visit to the school before leaving for the Middle East, promised that Varsha would not cry in future. Now Varsha is gone and it is we who are crying for her," Ms Dhanapalan told The Sunday Times.
Because of the high ransom demanded, police are trying to ascertain whether any armed group is linked to the abduction and murder.