The Sri Lankan Government has expressed its serious concern to the Canadian government regarding a felicitation ceremony held in Toronto recently to honour the two dead LTTE pilots who carried out suicide air attacks in Colombo and Katunayake on February 20.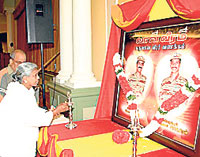 The parents of a suicide pilot lighting the oil lamp at the Toronto ceremony
A senior Foreign Ministry official said the Government had apprised the Canadian authorities of its concern and said Sri Lanka was surprised that Canada had allowed such a function.
"The LTTE is a banned organisation in Canada and so are several of its front organizations, yet this kind of ceremony has been allowed," the official said. At the ceremony, the LTTE flag was hoisted and the photographs of the two dead LTTE pilots were garlanded while a couple, said to be the parents of one of the pilots, lit a lamp in their honour. Several people also laid flowers in front of the photos of the LTTE men.
The Canadian High Commission's Media Relations Officer was not available for a comment.