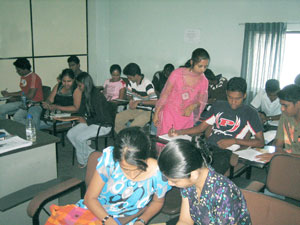 In today's competitive world, it is important for the youth to learn the international Language, ENGLISH to enhance their career prospects in order to be competitive and have that extra edge.
English is one of the most important and essential languages in this modern era. As English has become the international language of business and technology, knowledge of English is very essential for one and all in the commercial offices and for those who engage in trade on their own account. Indeed it is known so widely over the surface of the globe and is spreading so rapidly year after year, that it bids fair to become in the course of time a kind of universal language known and spoken all over the world. With the collaboration with world renowned brand "City & Guilds" PATHE Academy, www.patheacademy.org Introduces the World recognised ESOL and SESOL courses for the people who are learning English for a long time but the panic is still existing as well as the newcomers to the language.
PATHE Academy with an excellent history of more than a decade introduced an innovative educational format for Learning English to the Sri Lankans.
PATHE at Kirulapana - Maya Avenue (Pathe - Maya) expanded its capacity aimed at commencing a new course schedule through quality upgrading. With spacious classroom equipped with all the latest technologies for Teaching English language, PATHE Maya stands apart from other places that teach English, with all the audio -visual equipments and internet resource centre, students can expect an international quality of teaching experience. The centre is easily accessible by public transport and also has a lot of space for those who travel by vehicles, the quite environment within our premises make learning a wonderful experience. The centre caters to the small group classes thereby focusing more attention to students.
PATHE Maya cater to the below programmes
Foundation Programme in English (SESOL with CITY & Guilds)
Certificate in Spoken English (ESOL with CITY & Guilds)
Advanced Certificate in Business and Office English (with CITY & Guilds)
Teaching English for the speakers of other language (affiliated TESOL with College of Teachers-UK)
Diploma in English (affiliated with University of London)
TOEFL (Ibt) preparation with guaranteed results
IELTS preparation with guaranteed results
Human Resources Management:
Hotel & Hospitality Management:
PATHE Academy is continuing with efficient service as well as the prominence product. The proper academic environment of the PATHE - Maya is looking forward to deliver its grand service for you now. For further clarifications and details on English course @ PATHE - Maya please feel free to talk to our professional team of counselors at 111, ½ Maya Avenue, Colombo-06, PATHE Academy has a full time officer in charge of handling any relevant queries on 011 2586418 or visit our website www.patheacademy.org