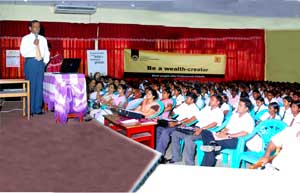 Resources Personnel Mr. T. Dharmarajah addressing the audience
The Institute of Chartered Accountants of Sri-Lanka (ICASL) conducts a Career Guidance Seminar for Advanced Level students titled "Sisu Nena". The initial workshop was held on February 25 in Ratnapura.
This edifying workshop which comprised the participation of more than 600 students of Ratnapura educational zone can be identified as a valued contribution given to the potential student generation.
This task was organised by ICASL along with the support of the Zonal Education office of Ratnapura.
The sole objective which motivated ICASL to organize an event of this nature was to serve the community by enriching the knowledge of the future generation.
Much significance was brought into this workshop by Mr. T. Dharmarajah a very eminent personality in the field who is currently a leading lecture cum practising Chartered Accountant. He discussed and enlightened the Students on New Companies Act and the Accounting Standards which is a mandatory for Advanced Level Commerce Stream.
ICASL had planned to host similar Workshops in other parts of the country spokesmen from the institute said.