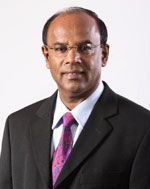 There are many Government, private and professional institutions who provide professional/tertiary education to the younger generation of the country to meet the demands of the ever changing, challenging and modernizing world.
Accountancy and Commerce have been identified in the Professional fields to have a high demand for professional education in order to enter the job market. Association of Accounting Technicians of Sri Lanka (AATSL), a Professional Accountancy body with 21 years history in the field of Accountancy and Commerce, provides middle level Accountants with qualifications that meet the demand for accounting/audit personnel in private and public sector organizations in the country.
We interviewed Mr. H.M.Hennayake Bandara, President of the AATSL in this regard.
1. Could you enlighten us about the AAT and its present status?
Association of Accounting Technicians of Sri Lanka is a professional Accountancy body, established in 1987 on the initiative of the Institute of Chartered Accountants of Sri Lanka. It is the only professional institution which conducts Accountancy Examinations at the Technician Level in Sri Lanka. AATSL is an Associate Member of the International Federation of Accountants (IFAC) and the Confederation of Asian and Pacific Accountants (CAPA).
2. Could you explain the role of an Accounting Technician?
An Accounting Technician, being a key player at middle level, provides support services to the professional Accountants. Statistics have proven that employers prefer Accounting Technicians who are specifically trained to operate at that level. Employing Accounting Technicians is cost effective and the availability of competent Accounting Technicians is beneficial to prospective employers.
3. Could you elaborate on the AAT Examinations procedure?
AAT Examinations are held at three levels namely, Foundation, Intermediate and Final, in all three language media i.e. Sinhala, English & Tamil, twice a year in June and December. The duration of each level is six months; thus three levels can be completed within 1 ½ years by G.C.E. (A/L) and (O/L) students and in 1 year by G.C.E. (A/L) Commerce stream students.
Students with six passes at the G.C.E.(O/L) Examination are eligible to register with AATSL. AATSL examinations are most suited for students with G.C.E.(O/L) and (A/L) in any subject stream. Those who are awaiting A/L. results also can enroll for the courses to make use of their precious time. In addition to this, any one, who has five years experience as an Accounts Clerk/Audit Clerk/Book Keeper/Accounts Trainee in a recognized establishment, or any equivalent experience or higher educational qualification can register as a student.
4. Could you explain the benefits that are accruing to AAT students?
To make things easier to students, AATSL allows students who have sat for their (O/L) Examination with pending results to register with AATSL and sit for the next Examination, which is scheduled to be held in June 2009. This is a rare opportunity for students to earn a professional qualification by the time they sit their G.C.E.(A/L) Examination. AATSL has several Private Education Centers (PECs) where classes are conducted to coach students for AAT examinations both in Colombo and in outstations. AATSL also has District Information Centers and Private Education Centers Islandwide for the benefit of students and the public to get information such as student registration, examinations, training and details on employment opportunities. The "Students Guide" which contains all details of AAT examinations, Syllabi of subjects and Application Forms is also available at these District Information Centres. Finally, it can be stated that the AATSL is the only Institution which provides guidance to follow a Professional Accountancy course at an affordable cost to those who are already in employment, aspiring for higher education after A/Ls, students who are studying for A.Levels and for those who are awaiting for O/L. results.
Further information could be obtained from the AATSL on Telephone No: 011-2559669.
H.M.Hennayake Bandara
President-AATSL