Yet another twist occurred in the annals of Sri Lankan rugby when Secretary of the Sri Lanka Rugby Football Union (SLRFU) Duke Hameed tendered in his resignation on Friday.

According to the constitution either the Secretary or the Chief Executive Officer (CEO) has to send a letter to the clubs who have voting rights informing them of the Annual General Meeting which incidentally is scheduled to take place on February 21. Earlier CEO Dilroy Fernando ended his term following the expiration of his contract.At the Executive Council Meeting held on Friday, Dida Illiyas was appointed as Acting Secretary.
Informed sources told The Sunday Times that none of the provisional members attended the meeting which was chaired by Vice President Asanga Seneviratne. In another development, the Asian five Nations Championship 2009 is scheduled to be held in Dubai in the first week of April which is just one week after the Hong Kong Seven-a-side tournament. And it is learnt that the hosts for the Asian tournament namely Arabian Gulf have not been invited for the event in Hong Kong. Sri Lanka have requested for a postponement of the Asian tournament, but sources say that it is unlikely that Lanka's request will be granted.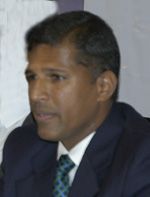 Dilroy Fernando

Thus the new council that comes in following the AGM will not only have to appoint a fresh panel to select players, managers etc.. but they will also have to decide on whether Sri Lanka's priority lies in the sevens or fifteens arena keeping in mind that finishing last in the Asian Championship Division One will mean automatic demotion to Division Two in the Asian region.

Meanwhile sources also said that the disciplinary inquiry to be held tomorrow or on Thursday into the conduct of Sanjeewa Jayasinghe and Gayan Weeraratne, has been postponed indefinitely due to the non-availability of two members one of whom is occupied with Army duties in the North