Dialog, MAS come forward for Pak, India tours
Sony, Ten Sports in TV toss-up
Sri Lanka Cricket which was looking into an empty barrel a few weeks ago with no bidders for sponsorships is all smiles once again with its luck changing – at least for the time being.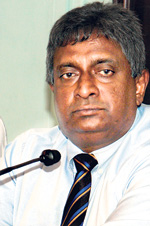 Duleep Mendis
SLC under the chairmanship of Arjuna Ranatunga called for bids for team sponsorship and clothing sponsorship after the contract with franchise holders Dilmah Tea (team sponsors) and MAS Holdings (clothing sponsors) ended. However, there were bidders.

Speaking to The Sunday Times on the new developments, Sri Lanka Cricket CEO Duleep Mendis said, "For the tours at hand with Pakistan and India, Dialogue Telekom has stepped in with a Rs. 10 million package while MAS Holdings has extended its clothing sponsorship for the same."

"It is encouraging that we have these two packages for a start. However, once the Indian tour is over, we will once again call for fresh bids for the full sponsorship packages," Mendis said.

Meanwhile Sri Lanka Cricket has invited offers from international TV broadcasters to sell television, radio, mobile, internet and sponsorship rights for the forthcoming Indian tour of Sri Lanka beginning on January 28.
The SLC says the relevant bid documents are available on its website: www.srilankacricket.lk and could be downloaded. The offers close at 11 a.m. tomorrow.

It is learned that Sony Corporation is expected to be the front runner at this bid where SLC is looking out for a price of 12-13 million US dollars.

However, The Sunday Times also learns that Ten Sports whose rights were cancelled by SLC under the chairmanship of Ranatunga has the matching rights and is determined to clinch the deal at any cost.
Meanwhile, the SLC has co-opted Rajan Udeshi of Siedles Ltd, the Sony agents for Sri Lanka, as the Chairman of the Tour Organizing Committee (a post that he held with the Ranatunga administration). Along with Udeshi, Shane Dullewa, Vansa Hettiaratchi and Chandra Wickramaratne also have been co-opted. The rest of the committee will comprise SLC employees who will be led by marketing Manager Charith Senanayake.

Media Manager on his way out

The Sri Lanka Cricket has withdrawn the official vehicle and the monthly allowance provided to their controversial media manager Shane Fernando.

"Yes, we have withdrawn those facilities from Mr. Fernando and he would leave SLC shortly," SLC CEO Mendis said.