Environmentalists say neglect of Sri Lanka's largest coral area located in Kandakuliya in the Kalpitiya peninsula will result in the loss of this cherished coral reserve. The reserve is said to be the most precious of all coral regions.
In 1992 NARA intimated to the government the value of the 42 sq. km area which resulted in the department of wild life declaring it an ocean reserve on April 3rd that year.
According to NARA as many as 420 varieties of fish live amidst the 120 varieties of coral found in the reserve.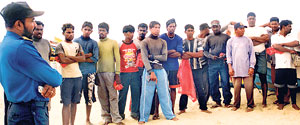 C.C F members holding awareness programmes with fisherfolk.
According to concerned persons the total reserve area covers 307 sq metres which is part of an unprotected 42 sq. km stretch of coral which anyone could enter. This despite the fact that the area has been designated an ocean reserve and declared a sanctuary. If the area had been designated a botanical reserve however, permission would have to be obtained to enter the area.
Since the area is freely accessible it should be strictly supervised and protected. Unfortunately this is not the case. Ffishermen spread their nets unmindful of the damage the nets cause to the coral. What is even worse is that some persons resort to dynamiting fish within the reserve and this is ruining the coral.
Since 1992 the wild life department has not taken any steps to preserve its rarity and save it for posterity.
It was amidst this deteriorating situation the Coast Conservation Foundation commenced a programme to enlighten fishermen on the value of the coral and the danger their activities were posing.
The foundation through its awareness programmes obtained the co-operation of the fisherfolk to recently clear the area of rubbish. Speaking on the venture its Chairman U. Mallikarachchi said it was imperative to obtain the co-operation of the fisher folk to protect the corals and help them understand the dangers their activities posed.
Foundation project manager H. Amarasekera said fisherfolk needed to be educated on the value of the coral reserve and the need to protect it.
The Asst. Director of the Wild Life claimed the department's preoccupation with wild elephants may have been one of the causes for the neglect of the reserve. He confessed departmental officials had not known the value of the reserve though some officials from the Karuwalagaswewa range visited the place on occasion.
He added newly recruited staff were well versed in the subject and with co-operation of fisher folk in the area the department would launch a program to save the sanctuary.