An estimated 3,140 civilians fleeing conflict zones in the Wanni region arrived at Manik Farm on Friday, trebling the number of displaced people who were previously housed at the camp, according to government officials.
"We are prepared to meet any contingency in trying to accommodate these people," said Mrs. P.S.M. Charles, Vavuniya District GA. It was not known how many more civilians may have arrived at Manik Farms on Saturday.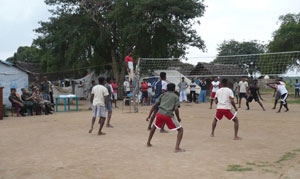 Enjoying Thai Pongal day with a game of volleyball at a camp in Vavuniya. Pix by Priyantha Hewage
The exodus of displaced people dwarfed last Wednesday's arrival of 796 civilians to government- controlled areas, which the Army said in a statement was the biggest-ever recorded movement of war-affected civilians in a single day.
The flood of people would appear to confirm the fears of aid agencies that increased fighting between government forces and the LTTE would lead to a massive increase in the internally displaced population and strain resources at existing camps.
Before Friday, about 1,000 people were housed in two camps at Manik Farm, the Ariviyaru Government School and the local cultural centre.
Sources at Manik Farm told The Sunday Times that local students had been unable to attend classes since December because of the nearly 300 displaced people who were using the school as shelter.
A few hundred yards away, extensive building is underway to create single-room shelters for hundreds of families expected to arrive in the coming weeks. About 80 acres had been cleared and housing for 150 families was close to completion, according to sources involved in the construction.
Displaced people at Manik Farm are under military guard and are not allowed to leave the camps.
As the intensity of the conflict in the north escalates there are few areas left where civilians can find refuge from the hostilities, according to a report issued by the International Committee of the Red Cros (ICRC) in December 2008.
"Families heading westward in search of safety are encountering other families moving eastward with the same aim," said Paul Castella, the ICRC's head of delegation.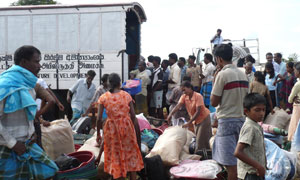 Scene at Manik Farm
There are an estimated 300,000 displaced people in Mullaitivu District and another 15,000 families remaining in Kilinochchi, according to Mullaitivu GA Imelda Sukumar.
The World Food Programme sent its 10th food convoy into the Wanni this week, though Ms. Sukumar said that as displaced populations shift increasingly towards Mullaitivu, these convoys would need to redirect their efforts.
The Minister of Resettlement and Disaster Relief Services, Rishad Bathiudeen, expressed his concern for the safety of the people fleeing the Wanni last week during a visit to Manik Farm. He also said that Norway had been approached for possible assistance.
"Mr. Basil Rajapaksa has spoken to the Norway Embassy in Colombo," said Mr. Bathiudeen. "We are trying to get the assistance of Norway and some NGOs to find safe passage and get these people out."