Low turnout at political rallies and lack of public enthusiasm and misuse of state property have been reported from the Central and North Western provinces where elections are scheduled to take place on February 14.
Only about 600 people were seen at a UPFA rally addressed by Prime Minister Ratnasiri Wickramanayake on January 13 at Anamaduwa in the Puttalam district. Such rallies in the past attracted 2000-3000 people, residents say. On Friday only about 30 people were seen at the opening of a UNP office in Puttalam.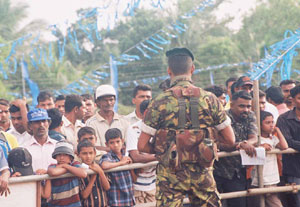 Crowds at the rally
In Kandy, only around 150 people attended a UNP rally addressed by UNP Chief Ministerial candidate S. B. Dissanayake and organized by Shanthini Kongahage on Friday. In the past, such rallies had drawn at least about a 1000 people, residents say.
Campaign for Free and Fair Elections (CaFFE) spokesman Keerthi Tennakoon said recent election campaigns had been marred by violence and he believed this might be one of the reasons for the low-public turnout.
"Ordinary people are not involved in these elections. Normally the public, trade union representatives and even professionals come forward to help. But we've not seen such a trend this time. Candidates are speaking to empty chairs," he said.
Mr. Tennekoon said CaFFE had also received reports of large numbers of political goons of thugs were being brought from other areas to the two provinces.
People's Action for Free and Fair Election (PAFFREL), chief Kingsley Rodrigo said people seemed to be more interested in more pressing issues such as the war, but larger crowds might turn out for the rallies as the election day neared.
He said he was happy that election violence was low compared to other polls campaigns and he hoped the peaceful trend would be maintained. He said PAFFREL would hold regular meetings with party leaders and election officials to prevent any outbreak of violence.
Though violence was minimal, several incidents of misuse of state property, including vehicles and buildings, for campaign purposes have been reported. Some of the state vehicles had been damaged, reports said.
The UNP's NWP Chief Ministerial candidate Shamal Senarath said that in Kuliyapitiya a non-cabinet minister had come with several state vehicles carrying his security personnel and they lit crackers at the junction, causing fear and tension among the public.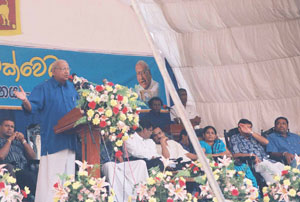 Prime Minister Ratnasiri Wickramanayake addressing a rally at Anamaduwa. Pix by Hiran Priyankara Jayasinghe
He said vehicles of UPFA provincial council members were seen being used for election purposes such as transporting supporters.
The JVP's Central Province Chief Ministerial candidate, Samansiri Fernando, said security officers of UPFA candidates in Kandy town have caused fear and tension among the people.
He alleged that the brother of Minister Rohana Dissanayke, had come in two vehicles without number plates and removed the decorations put up for a JVP meeting in Matale town.
Mr. Fernando also charged that preferential numbers of UPFA candidates were being displayed along with pictures of the military victories in Kilinochchi.
The JVP's North Western province Chief Ministerial candidate Nimal Herath claimed that party supporters in Dabadeniya, Kuliyapitiya, Paduwasnuwara and Nikaweratiya were attacked by gangs.
UPFA's NWP Chief ministerial candidate Athula Wijesinghe said that they were conducting campaigns at village level, house-to-house.
The UNP's Central Province chief ministerial candidate S. B. Dissanayake said that his party was also concentrating on house-to-house campaigns.
(Reports by Madhushala Senaratne, Hiran Priyankara Jayasekera, Shelton Hettiarachchi and Sujeewa Edirisinghe)